Tree planting is no longer exclusively for farmers, gardeners, or green-fingered folk.
Whoever you are, wherever you live, and however limited or abundant your resources, you can plant more trees this year.
While many companies have cottoned on to the importance of planting trees—ranging from gin distilleries to festivals—it's also easy to take action at an individual level, too.
You don't need to read an academic essay on the importance of planting and propagating trees to learn how to become a tree planter.
From something as simple (and free!) as using a plant-a-tree search engine to donning a cute 'Save the bees, plant more trees, clean the seas" tee from your favorite tree planting fashion brand, you can be as hands-on or hands-off as you like when helping the planet with new pines and palms.
So why not branch out and try one of these new methods for planting more trees?
What Is The Importance of Planting Trees?
It's obvious that planting a tree is less environmentally damaging than flying in a plane—but why do naturalists suggest that we plant more trees?
Short answer, trees are crucial for averting the climate crisis.
Emi Murphy, trees campaigner at Friends of the Earth, explains that:
"[Trees] work hard all year round removing planet-wrecking emissions from the atmosphere and giving us oxygen to breathe."
Forests are our earth's leafy lungs, but they breathe in the opposite way to us. Trees drink in CO2 through photosynthesis, and emitting oxygen.
This is the reason reforestation is deemed one of the most important and effective ways to protect humans and the environment.
There are many other ways in which trees benefit life on Earth, from protecting against flooding to preventing coastal erosion, maintaining biodiversity, and boosting our mental well-being.
There's never been more reasons or vital need to plant more trees to combat global warming.
Approximately 15 billion trees are cut down globally every year, and over the last 10,000 years, the world has lost one-third of its forests due to deforestation.
How does that compare to how many trees are planted a year? Do we plant more trees than we cut?
By UN estimations, approximately 1.9 billion trees are planted yearly.
Despite how massive that number is objectively, relatively speaking, that's still a huge difference between trees lost and gained each year.
But don't worry, we still have a chance to turn deforestation around by planting and helping trees grow—both literally and statistically. Keep reading to find out how to help trees grow in numbers greater than those by which we're cutting them down.
9 Ways to Help Trees Grow This Year
1. Support Businesses That Plant Trees
There are many ethically-minded businesses out there now, a lot of which combine their products' sales with tree planting.
Some do this by partnering with reforestation charities; others do it more directly. Sustainable clothing brands like tentree provide exciting and exemplary initiatives in this neck of the woods.
Launched by brothers Kalen and Derrick Emsley and their friend David Luba with the simple but mighty ambition to do their part for the planet, tentree's goal is to plant one billion trees by 2030.
They're doing this by planting ten trees (tentree—get it?) for every item of sustainable clothing sold. You can track where and when your ten trees are planted by registering the code you receive with your clothes.
Their reforestation projects are driven by need. They work across several countries, helping communities that suffer from extreme poverty and loss of biodiversity due to deforestation.
For that reason, tentree emphasizes the importance of planting native trees and fruit bearing trees—AKA those that won't only help the environment but will also provide food and subsidence for locals.
Additionally, local tree planters are paid a fair wage to plant, grow, and protect millions of trees until they reach maturity each year.
The brand is also transparent about when, where, and who the trees are planted by.
So far, they have planted over 100 million trees!
If you're thinking, "Great idea, but we don't need any more polluting products on the planet," this system is not-so-basic—despite the fact that they sell 'not-so-basic basics'.
All items are made from organic cotton, TENCEL™, hemp, and recycled polyester. Plus, their packaging is 100% biodegradable, and you can carbon offset the footprint of your delivery.
Some items are even eligible for their take-back scheme that repurposes and recycles old tentree clothing.
2. Donate To A Tree Planting Charity
There are quite a few organizations you can donate to that will plant trees on your behalf.
TreeSisters is an exceptional charity that plants trees. Their Grow Your Own Forest campaign really does what is carved on the trunk.
They've planted 27 million trees so far worldwide, including Brazil, Kenya, Cameroon, Borneo, Nepal, Madagascar, and Mozambique.
You can join as an individual, company, family, or community and choose how much and how often you donate to grow a forest over the course of your life.
This reforestation project is driven by social-economic as well as environmental goals. They are a refreshingly feminine response to climate change.
Being less interested in the latest tech solutions to sequestering carbon and more enthusiastic about forests, they see trees as the ultimate natural mechanism for solving the issue.
They are also run by women and are rooted in regenerating woodlands as well as supporting the women who plant them.
By getting involved with this organization, you can watch your forest grow as you donate and map the scale of your impact.
The sisterhood element comes into play in your personal life as well. By sharing your forest on social media, your friends can add to it and join the global network of women and woodland.
But they're far from the only organizations who know what helps trees grow best is ease of empowerment.
One Tree Planted, the Nature Conservancy, and Trees for the Future also put the power of planting more trees in our hands with the simple click of a button—no dirt under the nails required.
3. Lobby The Government To Plant Trees
However many trees we plant as individuals, the urgency of increasing tree cover needs to take root in the heads of the powers that be.
Emi Murphy explains, "In the hot summer months, trees give us shade and help to bring down temperatures in our towns and cities, and when it's colder, some trees give homes for hibernating animals."
Friends of the Earth see trees as our natural allies in the fight against climate change. They also consider systematic governmental power to be pivotal in protecting the planet alongside individual tree-planting efforts.
The charity believes that if the British government is serious about the climate emergency, they need to double tree cover in the UK by 2045. You can sign their petition demanding that they commit to doing this.
That is not to say that you can't play a part in this type of tree planting, too. Systematic change can be achieved on a local as well as a national one.
So, to increase tree cover, try putting pressure on your local council. They are likely to own or control large stretches of land that could be home to far more trees.
And remember, as with trees, there's strength in numbers. By educating your community on the importance of planting trees, you stand a better chance at enacting bureaucratic change.
4. Protect Existing Trees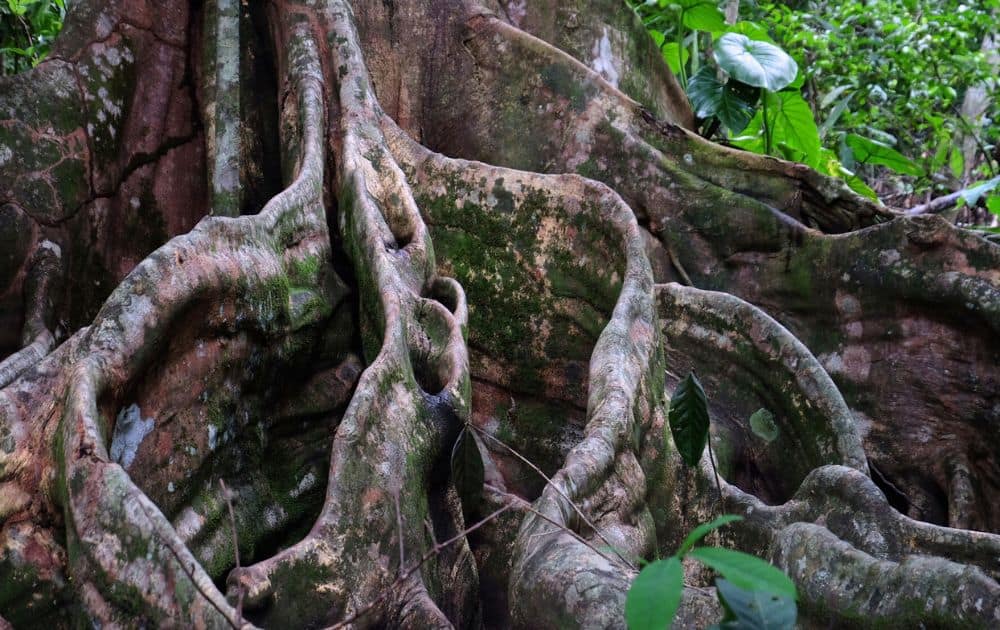 An easy and indirect way to ensure that the number of trees on earth doesn't decrease is by protecting the ones we already have.
Trees, especially those in cities, are under all kinds of threats.
Have you ever heard of a TPO?
This one is much nicer than The Property Ombudsman—it's a Tree Preservation Order.
This legal document makes it a criminal offense to harm a tree and makes it a legal requirement to replant a tree that is killed or removed non-consensually.
Anyone can request a TPO, including you! It can be applied to any tree, group of trees, or woodland area.
If there is a particular tree or patch of trees that you think is especially vulnerable, this is a legally binding and effective way to protect them.
Friends of the Earth have all kinds of other ideas about how you can protect trees under threat, from local campaigns to volunteering as a tree warden.
5. Get Involved With The Tree Cities Of The World Program
If you want to give your community an incentive to plant more trees this year, working towards getting your city to become a Tree City of the World is a wonderful way to go about it.
The program recognizes cities worldwide that make a concerted effort to protect and care for their urban forests.
You can take the steps as an individual or as a community to get your city working towards the five core standards that will make it eligible to receive this prestigious status.
Unsurprisingly, they involve protecting and caring for trees.
The benefits your city will receive if it achieves the accolade are excellent motivation for fellow citizens who might not be as concerned about reforestation as you are.
By becoming recognized as a Tree City of the World, your region will enjoy all kinds of benefits, including lower energy bills, a boost in property value, and international publicity.
6. Plant Trees With Your Smartphone
Is getting outside and physically planting a tree not an option for you? Do you still want to do something less abstract than donating to a charity?
The answer lies in your pocket.
Treedom is an app that lets you pay to plant a tree using your phone and then track its progress.
So, in what way is this reforestation project a positive initiative?
It's simple. They work with farmers from all over the world who depend on tree planting for their businesses.
You will make their livelihoods more secure when you commission them through the app because Treedom supports them in the early stages when their trees are not yet yielding fruit.
The company also supports agro-forestry initiatives in the areas where they plant.
As far away as your tree is, this method of tree planting allows you to have a personal connection with it. You can even pick the type of tree you want, from cacao to baobab.
The farmer who plants it will photograph it and 'geolocalize' it for you—AKA tell you where it is. Treedom will then create a web page for your tree so you can keep track of its progress.
If you're a believer in carbon offsetting, you can even use Treedom's CO2 Capture feature to track how much carbon you emit every day and use your trees to balance it out.
7. Just Go Outside And Plant A Tree
All these techno tree planting methods and schemes are super, but let's not forget that there is another very straightforward way to plant trees this year.
You could simply head outside, dig a hole, and plant a tree.
Wondering how to become a tree planter?
The Woodland Trust has numerous easy-to-follow online resources about how to go about selecting a seed and a site and getting your sapling into the earth.
Start by following their guidelines on picking a species that suits your area.
Then there are, of course, matters to consider when it comes to sourcing your tree, storing it before planting, and tending to it as it grows.
While there is no one easy answer to the question, "How to help a tree grow faster", simply caring for the soil (such as sprinkling a little peat-free compost around the base of the tree a few times a year) and biodiversity around it will do wonders for tree growth.
8. Join An Urban Tree Planting Session
Are you keen on the idea of physically planting more trees, but is a concrete jungle all you can see from your window?
You can volunteer with the charity Trees For Cities and join other people planting trees.
With the help of the players of the People's Postcode Lottery, they run urban planting sessions that anyone can join.
As well as the positive environmental impact you'll have by doing this, it will help the tree-planting mission in many other ways.
Group tree planting is also an excellent way to connect with a community of others who are passionate about sustainability. Compared to the indirect means of planting more trees, this will get you (literally) more grounded in your local green area.
It's also a brilliant and educational activity for children to get involved with, getting their noses out of the virtual world and into the natural one. For that reason, Trees For Cities also runs a Trees For Schools project.
It's helping the next generation to plant and learn about all the great things trees do for us by working with London-based schools, whose kids don't have much access to nature.
9. Plant Trees By Surfing The Web
Forget Google. Go green, plant more trees—all without leaving the worldwide web.
You can connect your keyboard directly to a leafy canopy via Ecosia. This search engine uses 80% of profits from your online searches to plant trees.
This German social business focuses on planting trees where they are needed most (such as Indonesia and South America) via local partners worldwide.
For example, they work with the Jane Goodall Foundation in Uganda to plant forest corridors that enable chimpanzees to move safely from one forest to another.
Unlike their dense woodland, this 'plant a tree search engine' is a transparent company. They publish their monthly financial reports and planting receipts so that you can see how much money they make from your searches and what percentage of that goes towards planting trees.
Their goal is to plant 1 billion trees, and so far they're at over 181 million. It's exciting and mesmerizing to watch the numbers on their tree calculator growing so fast.
Closing Thoughts On The Importance Of Planting More Trees
Why should we plant more trees?
Trees and their ability to sequester carbon are crucial in the fight against climate change—not to mention these lungs of the world give us the air we breathe.
On an economic level, the best trees for reforestation also sustain livelihoods by providing crops and employment for local people.
After all, planting trees should never be about pushing people out. Communities and the environment should be able to coexist in harmony with each other.
Just remember, tree planting alone is not the sole solution to the climate crisis, especially since young trees absorb significantly less oxygen than their mature counterparts.
So, while we recommend supporting fantastic tree-planting initiatives, protecting the trees we already have is crucial in the fight against global warming.
Will you be helping trees grow this year?
If so, give this article a share to educate your friends and family on the importance of planting more trees, and inspire them to join you in the regrowth revolution!