The fashion industry has had its fair share of greenwashing.
The words 'ethical' and 'sustainable' tend to get thrown about by high street brands despite the lingering concern over worker's rights, unsustainable materials and chemical dyes…
Luckily, sustainable fashion is becoming more than just a trend (check out our new free 90 page ebook for lots more ideas, hacks and info).

It's now even easier to find affordable ethical clothing brands in the UK that deliver effortless style with an eco-conscience whether it's loungewear or something more sophisticated.
Sustainable fashion is no longer a hazy enigma but varied, modern and accessible. And the price is coming down too.
There's no excuse not to get involved now.
Our List Of Affordable Ethical Clothing Brands In The UK
1. Kanula
Ethical fashion is for every day.
It doesn't have to be occasion wear or special occasions, it's definitely suitable for sofa time, winter walks and workouts which is why we're loving new laidback label, Kanula.
Think organic cotton T-shirts, hoodies and vests inspired by Greek beach life and each purchase gives 8% directly to the Sea Turtle Conservancy.
Choose from a range of marine life designs and wear your green heart on your sleeve, every day. We love the cute turtle sweaters for staying warm in.
2. Saint + Sofia
Saint + Sofia combine high fashion with sustainability to create designer clothing with an eco-conscience.
They only use natural or recycled fabrics, biodegradable packaging and minimise their travel footprint where possible.
All clothing is made using a smart supply chain that marries craft with technology.
For example, their scarves, trainers and boots are made in Italy by skilled artisan craftsmen. They also plant trees to offset their carbon footprint through Trees For Cities.
Related: 9 Ways You Can Plant More Trees This Year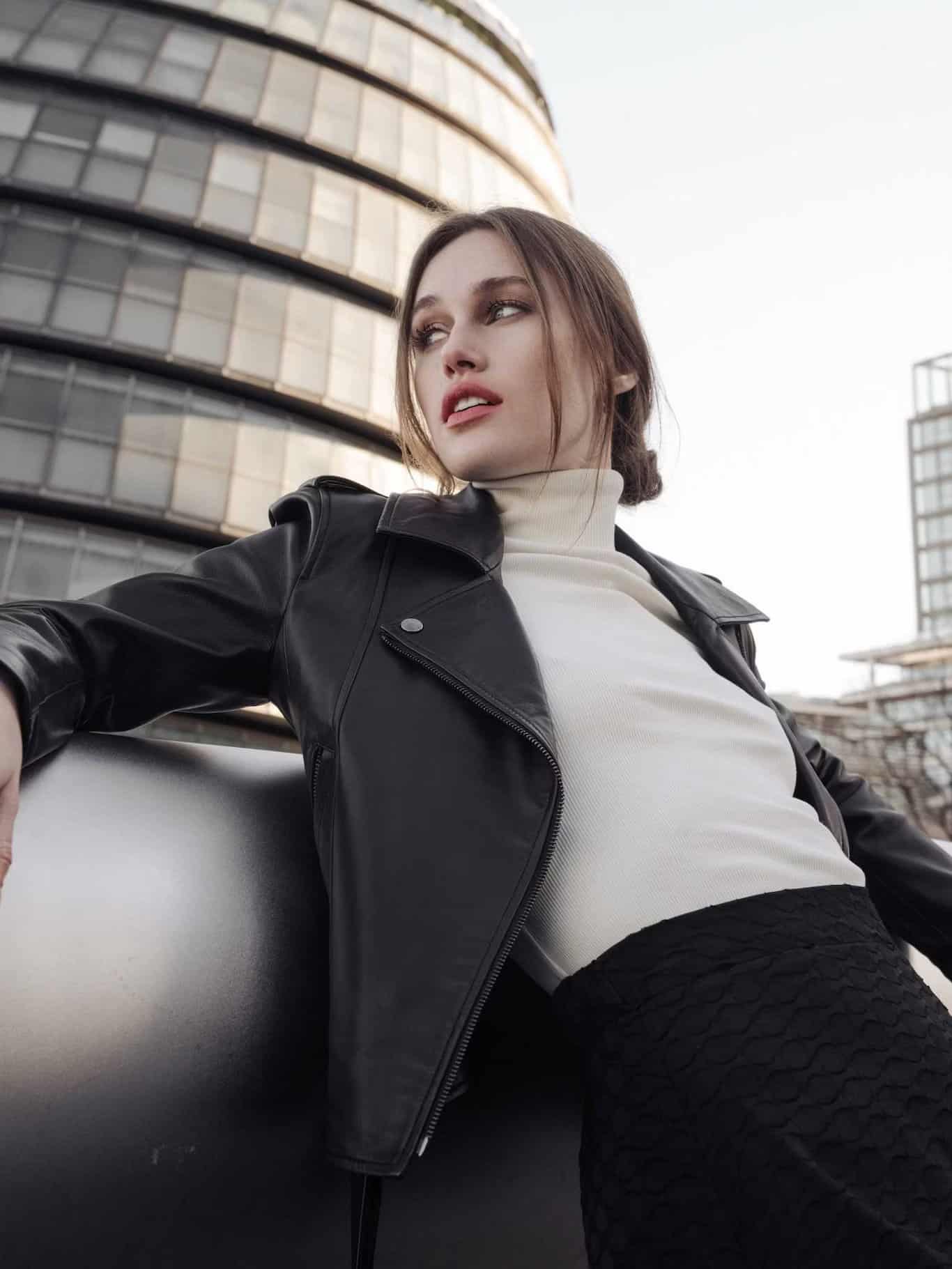 3. Inland Sea
Inland Sea have been our go-to for adventure wear since they began, making exploring all the more snug and stylish.
Their whole mission is to protect the outdoors and build a community around environmental appreciation so they create clothing made from 100% recycled materials, seaweed fibre and organic cotton.
Each piece of clothing is a celebration of the sea and the feeling of adventure it inspires.
Better still, a portion of sales is donated to Inland Sea's Kickstarter which invests in seaweed farms across the UK.
Related: 7 Reasons Why Seaweed Is Your Sustainable Best Friend
4. WELAN
Hailing from the Isle of Tiree off the west coast of Scotland, WELAN keep heads warm with their colourful collection of wool hats.
Whether you prefer a beanie, bobble hat or fisherman's beanie, WELAN are guaranteed to have a style you'll love.
The brand takes knowing the origin to the next level.
Most of the wool comes from their flock of seven rescue sheep otherwise it's sustainably sourced throughout the Highlands and Islands.
10% of their profit is donated to the Tiree Made Island fund which rescues orphaned lambs.
Read our interview with WELAN: How An Orphan Lamb Helped Me Start A Slow Fashion Brand
5. Brothers We Stand
Brothers We Stand sell a curated collection of ethical menswear and what's wonderful about these products is they look like they're straight off the pages of GQ … but they're super sustainable.
Each item has its product footprint, worker conditions and environmental impact factored, making sure the process is sound every step of the way
Brava's 100% Organic Cotton Alaska Shirt is a prime example and will become an instant wardrobe staple for any conscious man.
6. Cashmere Circle
Stay cosy with new cashmere company, Cashmere Circle.
It's not just a slow fashion brand, this is a collective of cashmere designers, textile specialists and sustainability experts who want to bring skilled jobs back to the Scottish borders and help close the loop on luxury knitwear.
Cashmere can have a detrimental effect on overgrazed landscapes so keeping your cashmere going is key.
They've launched a Repair & Revive service for mending and upcycling service for when it's time to turn that much-loved jumper into something else.
Related: Why Sewing And Mending Your Clothes Is Good For The Soul
7. Avant Habit
What we choose to wear reflects who we are.
Ethical athleisure and casual fashion brand, Avant Habit take this concept to the next level with their range of clothing designed by talented fine artists from all over the world.
Their clothing has been featured at London Fashion pop-ups, festivals and design markets. For truly unique, you can also customise your own t-shirt, hoodie, sweatshirt, jumper or bag.
We love their cosy sweatshirts and long sleeved 90s inspired T-shirts.
8. MAIUM
You can never go wrong with a mac or trench coat.
They're iconic wardrobe staples.
We love MAIUM's brand new unisex mac and trench coat collection which brings sustainability, comfort and effortless practicality to these classic styles.
These coats combine vintage silhouettes with a modern twist and you can trust them to keep you dry in the rain.
Our favourite thing about them? They're made from a blend of organic cotton and recycled PET plastic bottles.
Related: 6 Ethical Winter Coats To Keep You Warm For Years
9. Bad Habits
Bad Habits are all about expressing self-love and confidence through clothing.
Their gender-neutral collections offer effortless style and flexibility.
Every piece is custom dyed by hand using natural plant extracts to create a design that's unique to you.
They work to reduce their carbon footprint throughout the production process.
All materials are organic and eco-friendly, every piece is made locally and packaging is sustainable. Their ethos inspires you to be your true self with the planet's wellbeing in mind.
10. 66℃ North
Winter's not over yet and Iceland's 66°North is here to shield you against the remaining cold snaps with their Scandinavian protective gear.
The brand's heavy-duty fleecing is made from Polartec® fabrics and the lining and shell of their Dyngja Down jackets are made from 100% recycled polyester.
Whether you're an outdoor enthusiast or determined to beat the cold, this Scandi gear is certain to do the trick.
11. Christina Yother
Comfy clothing is a must but it doesn't mean you have to compromise on style and sustainability.
Whether it's loungewear you're after or a workout outfit upgrade, Christina Yother delivers with her brand new collection inspired by yoga.
The American designer uses sustainable fabrics throughout and adds recycled zips, shell buttons and straps made from recycled ocean plastic.
Any leftover fabric is turned into unique accessories and all profits are donated to women's shelters.
12. PLAYA London
Springtime isn't far off which means hopefully warmer weather too.
Ethical fashion brand, PLAYA London has got you covered with the world's first peshtemal shirts made from cotton, sustainably sourced from Denizli, Turkey.
This luxurious material is light, absorbent and quick-drying.
What's more, each shirt has been designed to reflect the climate and culture of the coastal regions they're named after.
For every shirt sold, £3 is donated to Plastic Ocean UK to fight against ocean plastic.
13. HERD
Help support British, sustainable knitwear, made from a herd of sheep in the north-west of England by HERD.
By using only 100% fine English wool, grown, processed, made and finished within 150 miles of the farms, with no toxic chemicals or dyes, Herd are closing the carbon loop begun in the soil with heirloom pieces that have a beautiful story to treasure for generations.
We're loving the chunky cream cardi that you can layer over everything as your social life hovers around outdoors.
Related: Is Wool Biodegradable? Bristol Cloth Is Pioneering A Regenerative Approach
14. Pantee
What do you get if you upcycle unsold T-shirts? Well, Pantee have worked out a way to make…pants (and bras).
Yep, Amanda & Katie McCourt have started Pantee, the world's first underwear brand made from deadstock t-shirts, which has just been fully funded via Kickstarter and is now ready for pre-orders.
Sadly roughly 30% of clothes made are never even sold.
Help tackle the mountain of clothing waste by supporting a circular fashion brand like Pantee, and say pants to fast fashion.
Related: Ethical Undies: 7 Brands That Get It Right
15. Gallox
Men's clothing brand, Gallox design ethical and sustainable apparel made from organic and recycled materials that can withstand the unpredictable British weather.
Choose from a range of cosy British lambswool knitwear, recycled canvas trousers, jeans and recycled cotton and polyester t-shirts.
For something more suitable for the summer season, their Woodford Jacket is made from 100% cotton canvas.
We love that it has natural corozo nut buttons that are scratch-resistant and biodegradable.
Other favourites are the Northmoor Shorts. Made from cotton canvas, these shorts are durable and strong. If they do encounter a bit of wear and tear within three years of purchase, you can get them fixed for free.
Related: Layer It Up: Essential Ethical Menswear You Need For Autumn
16. Hambleton
If you want classic British streetwear that's modern and sustainable, look no further than Hambleton.
Based in Hampshire, Hambleton designs clothing that's ethical, eco-friendly and recyclable.
Once worn out, you can send your clothing back to Hambleton and they will recycle it and make it into whole new pieces in a closed-loop system.
On top of that, all items are made ethically from organic cotton and printed in a factory run by renewable energy sources.
Hambleton's care for the environment also extends to the packaging which is recyclable and 100% plastic free.
Loved this article about the best ethical clothing brands in the UK and want more sustainable fashion inspo?