With the start of school slowly approaching means back to school shoe shopping — something parents all dread as the new school year begins.
Especially for families striving to become more sustainable, the struggle of constantly growing kids means constantly buying shoes.
To make your life easier we created a list of our top five favorite sustainable shoe brands for kids.
Quick links to the best sustainable kid's shoes:
At pebble, all of our products are independently recommended and researched by our editors. If you buy something, we may earn an affiliate commission which goes to help run our publication. Learn more about this here.
Sustainable Kids School Shoes: 5 Of The Best
1. Vivobarefoot
Over the years scientists have found research supporting the strong connection between the foot and the brain in turn meaning the connection of our movement on the earth and our place in the world.
Our feet are designed to be adventurous from walking and running to dancing in the streets. By putting our feet into shoes that are designed for style and comfort in turn reduces the strength of our natural foot.
Vivobarefoot is designed to give kids the barefoot feel through a wide, thin, and flexible shoe which will strengthen your feet.
Plus get 20% off your next pair when you return a pair of Vivo Barefoot shoes to be recycled or resold, and keep the shoes out of the landfill.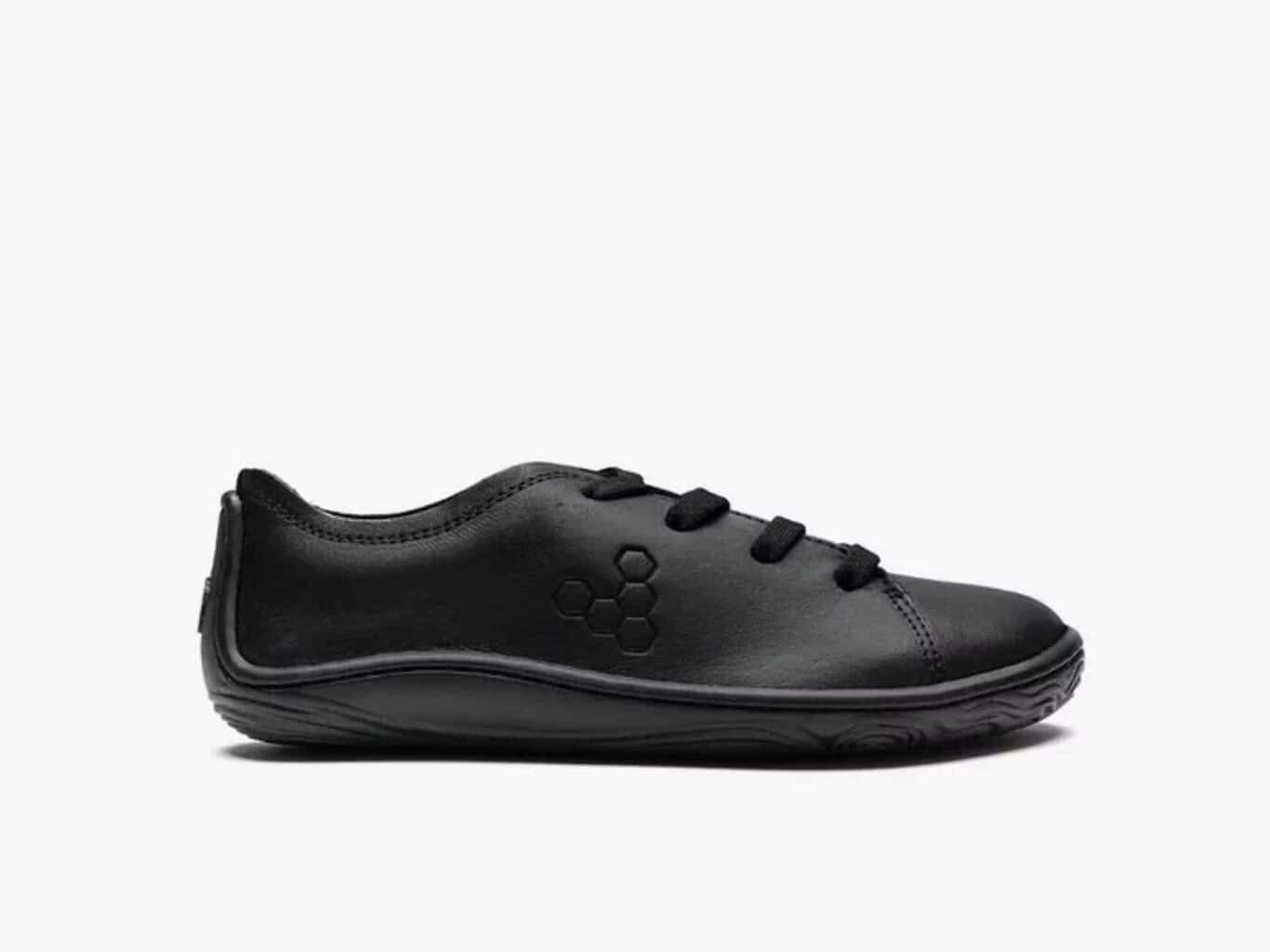 Why are Vivobarefoot's kids' shoes now more sustainable: Vivobarefoot is slowly but surely becoming more and more sustainable. With that said, the Primus School II and WYN School II shoes made for both juniors and kids are one of the best sustainable shoes for children as they are both made from natural and recycled materials.

Their most sustainable school shoes are the Primus School II Juniors and Kids and WYN School II Juniors and Kids.
pebble's verdict on Vivobarefoot's eco friendly kids shoes:
Pros: Perfect for all occasions | Free returns within its first 100 days of purchase | Certain styles are made to be remade and reworn reducing waste | Each shoe has a list of product features on the website
Cons: Not the most stylish shoe | Made from Wild Hide leather
From £60. View on Vivobarefoot
2. GROW
Known as the world's most sustainable school shoe brand, GROW has four durable shoe options that are perfect for any child's school day.
Why is it sustainable: The black school shoes are 100% vegan, ethically manufactured in a non-far-off site and cause zero environmental destruction to the earth.

For every pair of ethical school shoes you purchase from GROW, 10% will be donated to your child's school.
pebble's verdict on GROW's sustainable kids shoes
Pros: Cheapest sustainable shoe brand | Online measuring guide to ensure you order the right size
Cons: Only four options of shoes to choose from (could be a pro for busy mums)
For £48. View on GROW
3. Dubbary of Ireland
Another sustainable shoe brand for kids with even more options and styles to choose from to make your child's eco school shoe dreams come true.
Why is it sustainable: Dubbary of Ireland uses some of the most sustainable natural resources for their products including wool, Tencel, recyled polyester and Primaloft – which means that all of the materials are either recycled or recyclable.
pebble's verdict on Dubbary of Ireland's sustainable school shoes
Pros: Many different styles to choose from | Wide use of sustainable materials
Cons: Some of the styles are made with leather
From €40. View on Dubbary of Ireland.
4. Clarks
British institution, Clarks, is another sustainable kids shoe brand that will make sure your child's feet are comfortable throughout a long day at school.
Why is it sustainable: Although their sustainable practices are much younger than the other companies, Clarks is still committed to making a positive impact on the environment starting with using less plastics and using recycled materials.
They have made a start and achieved the below:
pebble's verdict on Clark's Sustainable Children's Shoes
Pros: 137 different school shoe styles for girls | 79 different school shoe styles for boys | Free delivery, returns and exchanges | At home sizing guide to ensure you order the right size | New and innovative use of more sustainable materials
Cons: Made from leather
From £36. View on Clarks.
5. Plae
Based in the U.S., Plae is a fun sustainable shoe brand kids will love for black shoes and trainers that are perfect for school.
Why is it sustainable: Plae's shoes are made in solar-powered factories using recycled materials and water-based glue. They try and encourage re-wear by having replaceable insoles and other durable components so other kids can re-wear the same shoe after your children grow out of it. Plus all of their packaging is eco-friendly.

Plae also have a buy back scheme in place. You can sell your used kids shoes on Kidizen through their REWEAR collective and in turn you will earn money for your next Plae purchase.
pebble's verdict on Plae's ethical kids' shoes
Pros: Reward system when you turn in your used pair of Plae's | Has an all-black vegan kid shoe which is perfect for school | Free returns
Cons: Only five all black options | Only ships in the U.S.
From $48. View on Plae
Loved this list of the best sustainable kids' shoes and need more inspo?