If you're looking for a more sustainable holiday this summer, then there are so many things you can do but choosing a more eco-friendly holiday cottage is a huge step towards reducing your carbon footprint.
From remote roundhouses in Scotland to family friendly Dutch escapes, there are eco-friendly holiday rentals for every size and budget, and many of them are set in the most incredible locations.
Forget a boring hotel room, or dodgy flat rental and think nature, being offgrid and taking a real, actual break. You can easily ditch the plane too, if you have flygskam (flight shame) and Greta would be proud of you.
5 Eco Friendly Holiday Cottages You Need To Book This Summer
1. Birch Cottage Eco Retreat, Gloucestershire, England
A trip to this idyllic eco-friendly cottage will leave you totally surrounded by beautiful nature. Throughout the house you can see the emphasis on a cosy and ecological style, it has been renovated with natural, locally sourced and recycled materials. The heating system is based on renewable energy, powered by two large thermal solar panels on the roof and a wood-burning stove. The cottage is located on the famous Offa's Dyke Path, so if you get the itch to go walking you explore this fabulous trail that's been here since the 8th century and follows the English and Welsh border.
2. Eco-friendly Cabin, Ouddorp, Netherlands
How about a stylish eco-cabin for a family? Forget Amsterdam, nature lovers will love Zeeland, on the North Sea coast. Incredibly this holiday cottage is made from recycled cardboard and sits within a carbon neutral holiday park. There's cooking facilities, good Wi-fi (no TV) and a double bed and two bunks. You have your own private terrace area but kids will love the shared natural swimming pool and there's a restaurant on site as well. The traditional seaside holiday village of Ouddorp is nearby and you're surrounded by the pretty Dutch coast. Take the Eurostar to Rotterdam or take the ferry and then train it onwards.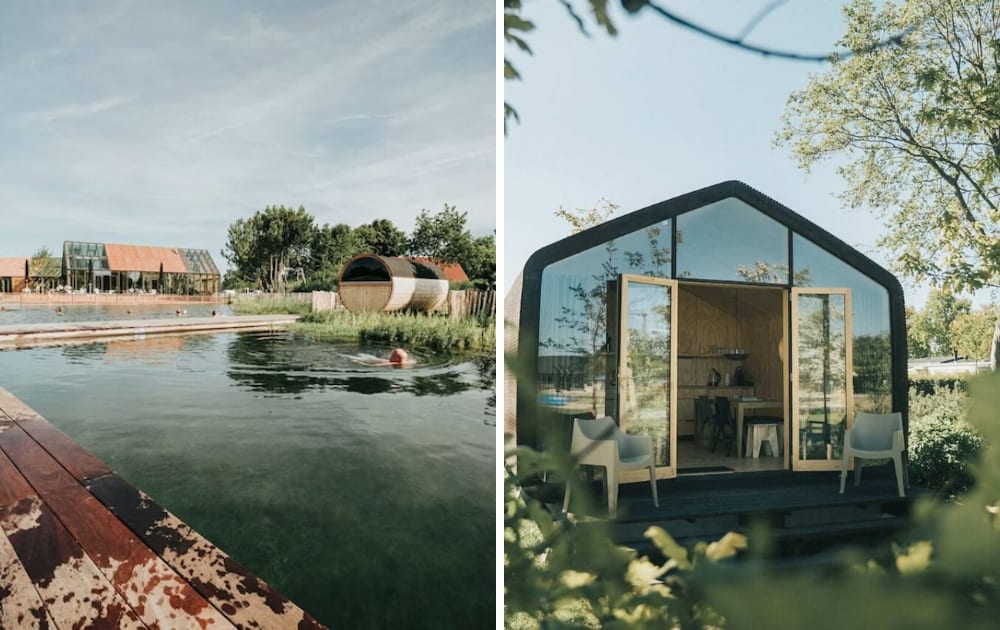 3. Eco-lodge, Corsica, France
How about staying on the top of a mountain with a sweeping view of the Bay of Ajaccio on Corsica, where you can find this unique and fascinating eco-lodge. The electricity here is provided by photovoltaics and the water is heated by solar panels. The pool is divided into three parts and has a natural style and blends into the rocks. The water pump also runs on solar energy and cooking is possible in the well-equipped outdoor kitchen. It's a romantic spot for a couple who want to soak up nature and experience what life can be like off-grid. To make it even more sustainable, take the train to Marseilles and an overnight ferry to Corsica.
4. Villa Can Jaume, Mallorca, Spain
Want something a bit more grand? With the look and feel of a luxurious holiday rental, this hidden gem has all the facilities you need on your holiday but it's still an eco-friendly holiday cottage that sleeps four. It's solar powered and takes its design inspiration from nature, with all natural materials. It's set just outsice stunning Manacor and has a breathtaking panoramic view of the mountains. In the garden there are sun loungers around a cute little pool where you can spend the day enjoying the tranquil surroundings, perfect if you want to get away from it all. Catch a train to Barcelona and a ferry to Mallorca to avoid flying.
5. Craigmaddie Muir Roundhouse, East Dunbartonshire, Scotland
It's not all about heading off abroad. Check out this cute eco-friendly holiday cottage in Scotland. A wooden roundhouse with incredible views could be your home, complete with wood fired hot tub outside. It's perfect for a romantic eco escape for two. The roundhouse is powered by solar and there's little electricity (enough to power phones and tablets). 180 degree view through the floor to ceiling windows will captivate your imaginations though, settle down to watch the sunset (and rise) after a day walking the Highlands. Plus you won't be slumming it as you'll find luxury bed linen and furnishings to cosy up with.
How to go wild camping in Scotland (and see the Northern Lights)
Want more eco-friendly travel ideas?
Rail-ly good: Top 5 European city adventures by train
5 reasons why you should try an off-grid holiday
Check in: the permaculture farm backed pub that's top of the pops