Solid shampoo bars are a growing haircare trend and with good reason.
The right one can help you save money, make your hair healthier and transform your travel packing list.
It can also have huge benefits for the planet.
By making the switch, you cut out single-use plastic, reduce your carbon footprint and prevent toxic chemicals from entering the waterways.
So if you haven't done so already, here are 10 amazing reasons why you should swap to a shampoo bar today.
10 Reasons To Swap To A Shampoo Bar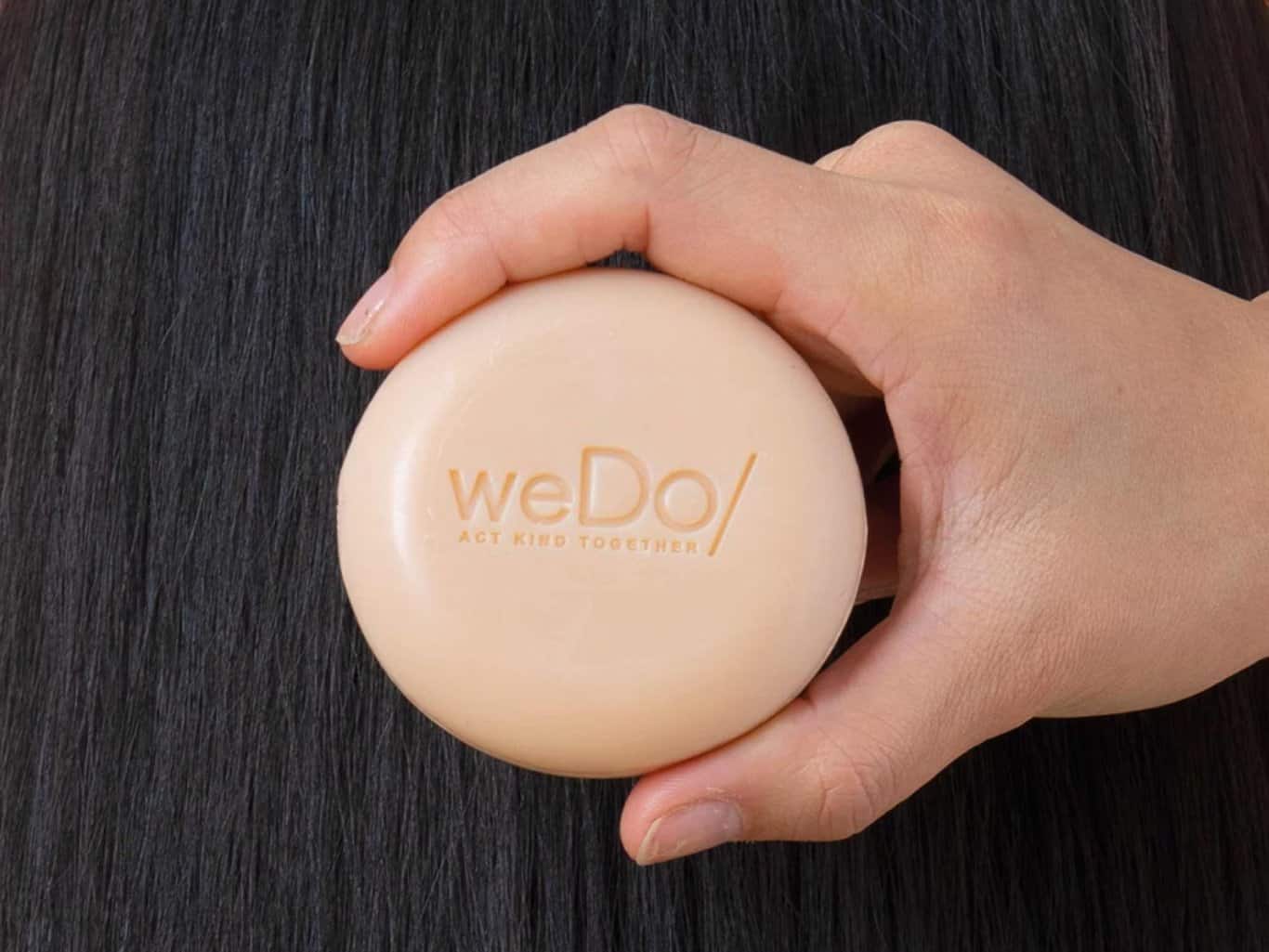 1. Shampoo bars are plastic free
According to a report, 520 million empty shampoo bottles are thrown out every year in the UK.
On top of that, a single plastic bottle can take 450 years to decompose but not before it breaks down into microplastic particles and infiltrates our waterways.
Unlike the liquid versions, shampoo bars cut out the need for plastic bottles altogether.
Switching to a bar like weDo No Plastic Shampoo ensures that a huge amount of plastic is prevented from entering the environment.
Since plastic pollution is such a huge problem, making this simple switch can have an enormous impact.
2. They are more sustainable than recycling
Shampoo bars are more sustainable than recycling because they are zero waste.
In an ideal world, most items should be zero waste or reusable and recyclable as a last resort.
Most shampoo bars have no packaging or at the very least come in FSC certified paper boxes. They're also completely biodegradable.
weDo have gone a step further by partnering with Plastic Bank, an organisation that tackles plastic pollution and extreme poverty by empowering communities to turn waste into wealth. Collected plastic can be exchanged for cash, healthcare, school tuition or insurance.
For every weDo product sold, eight plastic bottles are collected from the environment.
3. Cruelty free and natural ingredients
Many liquid shampoos contain harmful chemicals, sulphates and silicone that can strip the hair of its natural oils and leave your scalp feeling dry and irritated.
These chemicals then get washed down the drain and end up in our waterways, harming humans and animals alike.
Many shampoo bar brands like weDo have created their products out of a desire to protect the oceans, wildlife and ecosystems which is why they are cruelty free and only use natural ingredients.
A key ingredient of the No Plastic Shampoo is argan oil which naturally locks in your hair's moisture and keeps it soft and supple.
It also comes from a supplier that supports sustainable development in Morocco.
4. Vegan friendly
weDo's shampoo bar, like all products in the range, is certified vegan by The Vegan Society.
In comparison, many standard shampoos can contain over 20 potential animal-derived chemicals simply because they are cheap. One example is keratin which comes from the hair and horns of animals.
weDo is a proud 'eco-ethical' brand that looks carefully at its impact on humans, wildlife and the environment which is why they are certified cruelty free and vegan.
5. Makes your hair healthier
The biggest question that people ask around solid shampoo bars is do they even work?
The answer is yes.
Like any new product, you have to find one that's right for you and give it time to adjust.
In the end, the natural ingredients in the shampoo bars are much healthier for your hair and body.
A good quality one like weDo is just as, if not more, effective than liquid versions at ensuring your hair stays soft, smooth and moisturised.
In fact, weDo's No Plastic Shampoo is specially designed with professional performance in mind.
It has a minimalist, dermatologically tested formula for optimum effectiveness at a low allergen level.
6. Convenient to use
How do you use a shampoo bar?
It's easy.
You can wet the bar and work it into a soft lather in your hands and rub it through your hair.
Alternatively, you can run the bar directly down wet hair. Massage it into your scalp and rinse as normal.
You will need less than you think.
7. Lower carbon footprint
Shampoo bars have a lower carbon footprint than their liquid counterparts which make them an easy swap if you want to reduce your own carbon emissions.
The ingredients in most shampoo bars are less refined and treated than those in a standard bottle.
That means there's less intensive manufacturing involved both in the product and the packaging.
Better still, because they're much smaller than bottles.
A lorry full of shampoo bars holds roughly the same amount of washes as 15 lorries carrying liquid shampoo bottles. That's fewer carbon emissions spent in transportation.
"A lorry full of shampoo bars holds roughly the same amount of washes as 15 lorries carrying liquid shampoo bottles. That's fewer carbon emissions spent in transportation"
8. They help you save money
Can shampoo bars save you money?
Yes, because they can last twice or three times as long as bottles.
The average bottled shampoo lasts about 25-35 washes and 80% of the actual product is water.
To put that into perspective, weDo's shampoo bar lasts up to 80 washes and is far more concentrated so it needs a lot less water.
Think about all that money and time you save not having to buy as many expensive shampoo bottles. It's certainly the more economical choice.
9. Perfect for travel
Worried about liquid allowances? Want to pack light?
Shampoo bars can solve both of those problems.
They are liquid free, lightweight and you don't need to spend money on those tiny travel toiletries that barely last and only serve to contribute to single-use plastic waste.
You don't have to estimate how much product you think you will need and squeeze it into a reusable tube either.
Shampoo bars are approved to go through airport security and you are not likely to fall victim to spills or leaky bottles. The best way to transport your bar safely is with a tin which makes it zero waste too.
10. Easy space savers
The easiest way to reduce bathroom clutter is to switch to shampoo bars.
They take up far less space in your cabinets for double or even triple the amount of washes.
They are a perfect solution for keeping your bathroom tidy, minimalist and clean.