With Italy a few hours to the left over the Swiss mountains and Evian, France on the opposite lake shore, a mere 30 minutes by ferry, Lausanne, cannot escape its central European location.
For centuries, entrepreneurs, free thinkers, architects, artists, musicians and others have found refuge on its shores and flourished in the crisp Alpine air.
Over time, the city has added layer upon layer of history, culture, art, music, sport and wine growing as it has expanded from its birth across three glacial peaks and at the confluence of 2 rivers (the Flon and Louvre) to its modern day place as a centre for hospitality and the International Olympic Committee.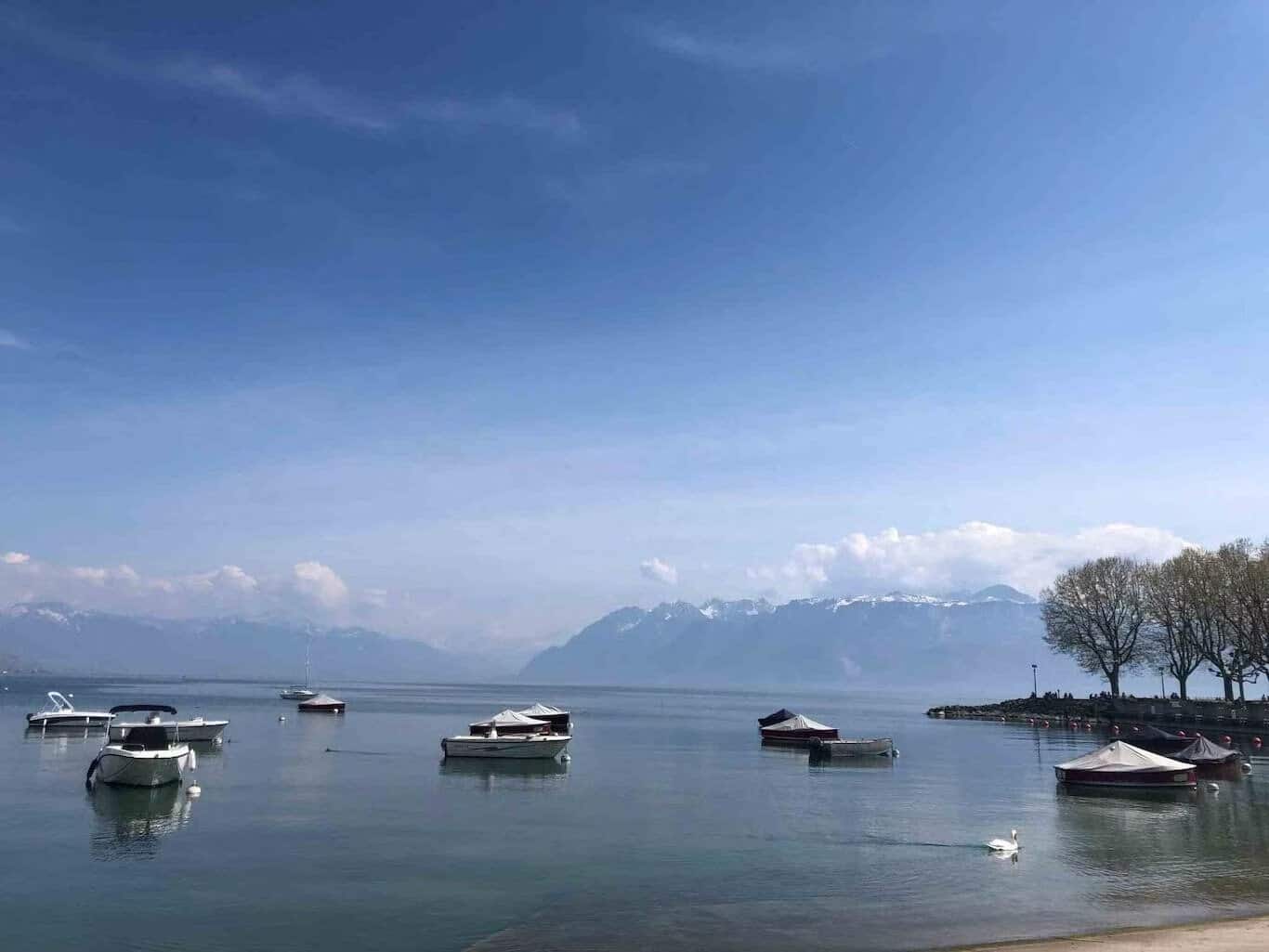 The fourth largest city in Switzerland feels incredibly content with its lot in life.
Quality of life is high here, partly because nature is interwoven across the hilly city, and there's 25 sq m of green space per person.
The clean, clear air brings with a desire to both stay healthy and look after this incredible environment, where wine grows on steep south facing slopes on the edge of town, sheep roam the pockets of parkland and always the lake, deep, silent, blue and calm calls Lausanners to take to the water by sail, paddle, and front crawl.
While most will think of chocolate, cheese and mountains when thinking of Switzerland, a few moments in Lausanne proves there is so much more.
Woven along the lake shore (which is perfect for cycling and walking) are forested parks and wildflower meadows with winding paths where residents bask and picnic in the spring sunshine.
Across Lausanne, old manor houses once owned by Swiss nobility have been handed over to the city, creating mini parks full of ancient trees, kitchen gardens and cafes. A network of steep footpaths links many of them, allowing you to discover a greener city that operates on an older system – where there wasn't a clear delineation between consumer and producers, or food growing and residential housing.
The steep cobbled streets of the old medieval city and the more modern shopping district are laced with a farmer's market on a Wednesday and Saturday morning, which is central to bringing local and seasonal food to Lausanners.
As elsewhere, local food supplies and food security are becoming more important to citizens, in a post Covid time and in the face of a changing climate.
There has been a rise in interest in returning to farming the verdant soil here, not just investing in the terraced vineyards.
Those locally renowned vineyards in Lavaux, have been here since the 12th century, established by the dominant bishops, who ruled the medieval city, but they're slowly being joined by other crops and enterprises as more Swiss return to living outside of the major cities and want to develop stronger local food systems.
To taste Lausanne, head to Sardine, a fabulous courtyard restaurant where seasonal ingredients shine, along with the famous local wine, such as Pierre Fonjallaz.

Despite cheese and meat still heavily on most menus, there are a growing number of vegan options in Lausanne, especially at the casual dining end. Try Swiss chain Green Gorilla for cold pressed juices and acai bowls, or the gorgeous L'Echo which is all about lowering our food's carbon footprint and plant based diets.

Walk off your delicious dinners with a self guided tour of Lausanne's secondhand stores. Vintage and thrift shopping have become popular over the last decade and there's a decent handful of independent places to check out.

Stop by Le Dressing for preloved designer gear or Ateapic, a huge secondhand fashion store in Flon.
Flon itself is a post industrial wonder. This pedestrianised area is packed with bars, restaurants and shops. It emerged from the industrial wasteland (formerly warehouses and a free port) between two of the city centre hills in Lausanne. Stop by for a drink or a browse and you might also find alfresco dance lessons happening or a garage sale.

For a small sized city, Lausanne is easy to get around on foot. There are two main tram lines which cross the city and connect the lake to the hills, and a comprehensive bus network.
On board the buses, adverts promote tree planting, information sessions about the environment and local litter picking schemes, while Lausanne has a clear roadmap to get to Net Zero by 205 (and reach 50% by 2030).
It's evident as a visitor that this is a city with deep sustainable roots and there's a real pulling together to achieve a destination that enables both residents and visitors to become more green.
For a birds eye view of how Lausanne hangs together, head up away from the lake.
High in the hills sits Sauvabelin, a small suburb and forested park that is home to the Sauvabelin tower, an incredible wooden tower with a viewing hub on top that affords a 360 degree view over the lake and Lausanne from 35 metres high. If you climb up and down the enormous wooden spiral steps you'll be rewarded with a breathtaking view that demonstrates just how varied Lausanne's landscape is.

Back down at the lake (take the tram to the end of the line at Ouchy), there are multiple options to bike or walk in either direction. Head off in the direction of Montreaux along the lake front and if you're up for a morning's walk, modernist architect Le Corbusier's villa is around 3.5 hours by foot, and open for tours. In the other direction, there are a number of beaches, including sandy ones just outside Lausanne (try the Plage de Vidy-Bourget).
Or there are several pretty mountain walks that are easily doable as day trips, from taking in waterfalls (La Tine de Conflens) to being able to see eight lakes from the summit of a 3 hour hike (La Dent de Vaulion).

In this pretty city, with Alpine views, the ancient lake, incredible history and a huge array of quality food on the doorstep, it's almost impossible not to want to look after our environment and to reduce our impact as travellers.

Lausanne has been a beacon for many movements over the years, it has embraced refugees, artists and musicians fleeing darker times in almost every century, perhaps in the 21st century it will become a shining light for what is sustainably possible too.
For more details about sustainability and trip ideas for Lausanne, visit www.myvaud.ch.
This trip was supported by MySwitzerland.com.