The lingerie market has seen significant growth in the past decade. From more disposable income to cheaper clothing, there are a multitude of reasons why lingerie is becoming a force to be reckoned with.
In fact, did you know $16 billion are spent on bras annually worldwide?

Whether it be social or economic, lingerie is impacting the fashion world and consequently affecting our planet.
What's wrong with how lingerie is made?
Everyone knows how negatively fast fashion impacts the environment and garment workers, and lingerie can be a part of this problem.
Some of the issues with the contemporary lingerie industry are:
Often unethical in practice
Often unsustainably made items
Common practice to throw away lingerie
Common practice to continually buy new underwear
Sizing isn't consistent across the industry
Lingerie tends to not be size inclusive
Big players in the lingerie-fast fashion industry, have been named and shamed for their wasteful ways, many of them send unsold lingerie to landfill, and join the 26 billion pounds of textiles that are sent to landfills each year.
Many brands resort to extreme measures like this to ensure that their clothing profits remain only within their channels, disregarding the environmental and human costs of producing the products.
It's not just brands, we all buy more than we need.
According to this recent report, the average woman in the UK wears just two bras on rotation, yet more than half of the women polled said that they had brand new underwear which was unworn and they never intended to wear.
$16 billion is spent on bras annually worldwide
How Peachaus is different
Peachaus don't want customers to buy more than they have to, instead they encourage slow shopping.
It prioritises making comfortable garments while also making sure that the lifecycle of the product is as long as possible.
The brand tackles this holistically, from the materials it sources to the programme of care and repair tips it will be introducing to help customers look after their clothes.
How Peachaus lingerie is designed
The conventional sizing of bras were designed in the 1930s as a means of measuring for pattern cutting.
The measurements do not relate to the body's sizing, and definitely do not account for age, tissue type or personal fit preference.
Peachaus' bras however are designed with a simple sizing system in mind.
Sizes in the regular range from XS to XL in soft styles and S to L in seamless and underwired bras. In the fuller range, Peachaus offers S,M,L 5–8, which is equivalent to 32–36 E–G.
Peachaus' bras are designed for versatility, comfort and self-expression, offering a fluid fit that works if you size slightly up or down.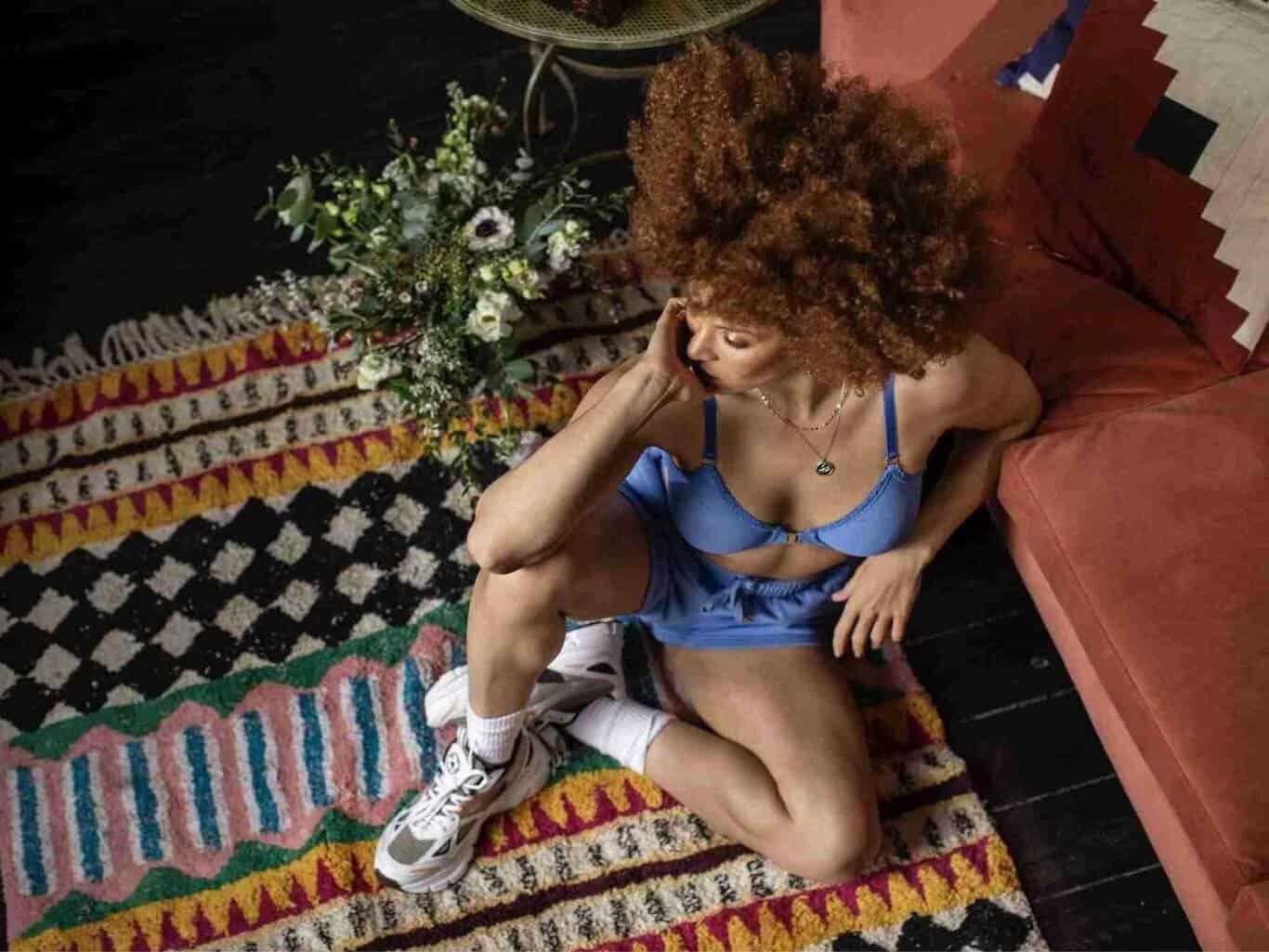 What Peachaus lingerie is made of
Peachaus works with low impact materials, like bamboo and ethically sourced cotton.
This is one of the many ways in which Peachaus safeguards people and the environment, while also creating comfortable lingerie.
And because the brand only works with high-quality materials, each garment will last a long time.
Likewise, Peachaus' garments are packaged in recycled materials – from the cardboard to the tissue bags, while the order bags are fully biodegradable, non-toxic and contain no microplastics.
pebble's Experts Try Peachaus: Tried & Tested Review
This post is based on an independent review by our team and may contain affiliate links. If you buy something through our links, we may earn a small commission. Learn more about this here.
Betula Recycled Tulle Underwired Balconette Bra
Francesca Brooking, Features Editor at pebble, tested the Betula recycled tulle underwired balconette bra in Dawnlight Coral.
She comments: "The bra is well made with beautiful lace detailing across the cups. It looks like feminine lingerie but it's robust enough for day-to-day wear so I felt great wearing it.
I have a tricky size so it's not always easy to shop for bras. Although I couldn't find my size listed on the website, I went for the sister size up and I was pleased to discover that the bra fit perfectly. In fact, from the moment I tried the Betula bra on, it was instantly comfortable.
There were no awkward digging-in straps that needed to be adjusted. The underwire felt secure without being constrictive. One thing to note, the bra isn't padded but that comes down to personal choice. "
Betula bra, £55
Betony Recycled Tulle High-Rise Briefs
"The Betony recycled tulle high-rise briefs are certainly very high-waisted. The lace detailing is, again, beautiful and the underwear is comfortable. A perfect match for the balconette bra!?
Betony briefs, £25
Konara Recycled Tulle Fuller Underwired Bra
"As a woman with larger boobs, many of the ethical fashion brands which just produce simple triangles on strings as underwear, don't work for me, despite my desire to only buy and wear ethical lingerie," says Georgina Wilson-Powell, pebble magazine founder.
Bigger boobs need more material and more support, and it's fantastic to see Peachaus take this on board and create super soft, beautiful bras in bigger cup sizes.
My bra arrived gorgeously wrapped in tissue paper, it's really comfortable to wear, unlike some scratchy or nippy bra straps, with a high cut for boob security and it feels made for me, rather than trying to man-handle your breasts into cups that aren't forgiving.
As someone with sensitive skin, I really appreciate the lack of labels in the bra, everything is printed onto the fabric to reduce waste and it's cute that the name of the person who designed your bra is also printed there. Thanks Sophie!"
Konara recycled-tulle bra, £55
"Ethical, stylish underwear isn't always the easiest to find but there are some gorgeous styles at Peachaus.
I ordered a high waist Betony pair, and a mid-rise pair (Ume) both in recycled tulle and organic cotton. They came beautifully wrapped like a gift and felt like a real treat to treasure. Both have been cut sympathetically for every figure and don't ride up under jeans. I was running around all day between meetings and no issues here!

I love the fact there are 'how to cherish' tags in every pair which tell you how best to wash and dry your underwear to give it as long a life as possible, which is what we all need to be doing."
Ume recycled-tulle mid-rise briefs, £15
Peachaus' packaging
It's worth a quick mention as the packaging here is thoughtful. While the ethical underwear comes in unbleached tissue it's also protected in 100% compostable bag that's ok to compost at home.
For more on Peachaus, visit peachaus.com.