When I was seven years old my mother was arrested. I remember the day vividly as if it were yesterday. The receptionist at my primary school taking me to the office at the end of the day as mum was unable to pick me up, she was hesitant to tell me something. A few hours later my mother arrived to collect me. On the way home she explained that the council had started cutting down trees to clear space for the new shopping centre and so she had to intervene. It turns out this is an arrestable offence, so she had spent the day in a police cell.
Despite this being the furthest thing from the norm in our middle-class Oxfordshire community (so much so that it made the front page of the local newspaper) I was relatively unphased by the occurrence. During my childhood both my parents were hugely involved with Green Party politics and environmental activism and so, at age seven, not only was the thought of being arrested for the purpose of saving trees a relatively ordinary one, but something I was itching to be doing myself.
My upbringing was hugely different from that of my peers, in many ways, but I never really considered myself or my family to be activists, not until I became involved with Extinction Rebellion (XR).
In the past year, since the declaration of rebellion in October 2018, XR has made international coverage as one of the fastest growing movements in recent history and possibly the largest in the history of climate and environmental activism. It has also been greatly renowned and criticised for its use of non-violent direct action and civil disobedience and the number of arrests that has resulted from this.
I am sure that I'm not the only one to have had their lives changed hugely by this movement, so, when reflecting back on the year I have spent working within XR, six months of which as a full time national media coordinator, it's no surprise that there have been some huge lessons.
6 Things I've Learnt as an Extinction Rebellion Activist
1) The power of communication
If you ever find yourself in an XR meeting you will quickly pick up on some unusual gestures being used, often in place of verbal communication; jazz hands in place of agreement, one finger in the air to make a point and two if your point is directly relevant to what is being discussed, for example.
If you haven't come across this before it may throw you off a little, however, as I have learnt in the past year, the use of hand gestures makes communication hugely more effective and accessible. It also helps to dismantle hierarchies and makes it easier for certain voices to be heard over others. Similar gestures are also used out on the streets during actions where things can often get loud and confusing, making verbal communication difficult.
"Jazz hands in place of agreement, one finger in the air to make a point and two if your point is directly relevant to what is being discussed"
2) The media is your worst enemy and best friend
Contrary to what we're led to believe, power in this country is not held solely by those fortunate enough to sit in the Houses of Parliament. I wouldn't go as far as to say that we're brainwashed by mainstream media, but this also isn't the furthest from the truth.
Much of the time, when reading the newspaper or watching a new documentary, we're unaware of the impact these industries have on shaping our perception of the world.
Only since I have been involved with a movement that is so often at the centre of, often very divisive press coverage, have I come to understand the extent to which we are shaped by the media we consume. Many times, I have found this realisation alarming, but it has taught me a great deal when it comes to cultivating everything from reactionary press releases to social media coverage of, often controversial, events and actions.
3) There are difficult truths
One of the greatest life lessons that I've gained from being involved with XR is that the crisis we face is so much greater than anything that can be approached and tackled through individual action.
Although cutting down on meat and dairy consumption and flying less are great places to start when pursuing a more sustainable lifestyle, our conceiving of, and engagement with, the climate crisis cannot end here.
If we are to have any real hope of avoiding complete societal collapse in the coming years, we must accept the difficult truth that the way our modern 'Western' society functions as a whole, built on centuries of colonial and patriarchal systems of oppression and 'fairy tales of eternal economic growth' as Greta Thunberg concisely put it in her address to the United Nations, is not feasible, and that drastic changes may need to be made by us all on a much greater systemic scale.
4) We need to understand ecocide as law
Not only has XR provided me with new knowledge and skills, it has also brought me into contact with a whole range of groups and organisations working within the climate and environmental justice movement.
One of these is the 'Stop Ecocide' initiative, developed from the work of the late environmental lawyer Polly Higgins, which aims to have ecocide made illegal within the law of the International Criminal Court. As concisely put on the organisation's website "ecocide is the mass damage or destruction of natural living systems".
By putting this into law, all governments and corporations that cause ecocide would be held accountable. Not only am I now a 'rebel', but also a conscientious protector that is willing to sacrifice my freedom for the purpose of preventing greater damage being done to both people and planet. If all goes well, we might soon have the law on side as well.
"The climate crisis will not have proportional effects on global populations"
5) Intersectionality is essential
At no point in my twenty years of life have I been more aware of my privilege than in the past year that I have spent working within the climate justice movement. Despite all the valid criticisms made against XR around its lack of diversity and inclusivity, it has succeeded in teaching many of us valuable lessons about our privilege and positionality.
I believe that what it comes down to is the following; the climate crisis will not have proportional effects on global populations, this is something that we are already witnessing take place on an international scale.
The voices of those, that are being, and will be most greatly affected by this crisis yet have had least to do with causing it, must take a central role in all discourse, narratives and decision making when it comes to combating such. Activism maybe relatively newly popularised by groups in the west, but when it comes to resistance, indigenous people and those in the global south have been doing so for generations.
The climate crisis cannot be so easily whitewashed as many activist movements are and such movements will not achieve anything unless focusing as much on internal work of dismantling inequalities and oppressions, as on externally pressuring governments and those in power.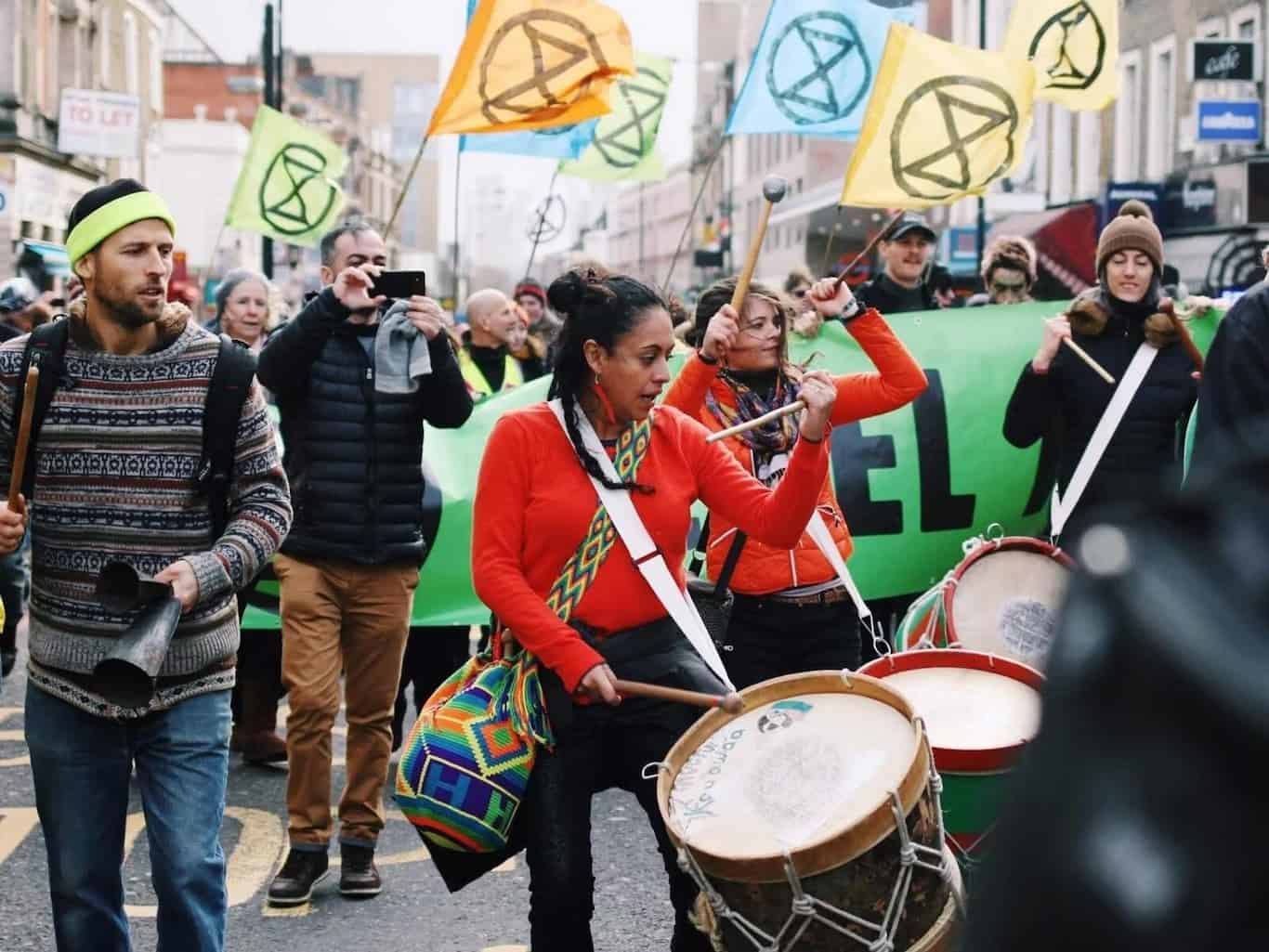 6) The youth, quite literally, are the future
One of my greatest hopes is that one day I need not remind anyone of this. I came into this movement looking for direction from those members of older generations, that I believed 'knew what they were doing'.
In the relatively short period of time since, my comprehension of the capacity and ability to bring about change, that young people possess, has shifted greatly. From the Civil Rights Movement to the Arab Spring, young people and students have continuously been a driving force for social change throughout history, something that is only becoming clearer with the current youth climate movement.
The young people that I have met through Extinction Rebellion, and more specifically XR Youth, have proven to me that 'another world is possible'. It seems fitting that this is a popular chant at youth strikes and actions.
Talia Woodin works full time for Extinction Rebellion Youth. Head over to Extinction Rebellion to find your local group or find out about their upcoming activities in 2020.
Inspired To Do More?
Climate Strikes 101: Everything you need to know to take action
How Our Imagination Can Help Solve the Climate Crisis
Why Our Imagination Is Key To Solving The Climate Crisis
Get Your Activist On