Summer is just around the corner and with it, swimwear season.
If you're dreaming of lazy beach days and wondering whether or not to buy a new set of swimmers for the occasion, there's something you should know: regular swimwear is bad for the environment.
Don't worry, you don't need to forgo it altogether.
Plenty of ethical fashion brands have stepped up and it's never been easier to find high-quality recycled swimwear that looks the part no matter what.
So, what's the deal with regular swimwear?
Most regular swimwear is made from petroleum oil-based synthetic materials like nylon, spandex and polyester.
This is problematic for several reasons. The first is that these materials aren't biodegradable which means they end up in landfill or polluting the planet for hundreds of years.
The second reason is that these materials shed and break down into microplastics which get washed into the ocean and infiltrate the food chain.
Oil is also a rapidly depleting natural resource and it has a huge carbon footprint throughout extraction and fibre production.
What is recycled swimwear made of?
Recycled swimwear tends to have four functions:
to regenerate non-biodegradable materials
reduce pressure on virgin resources
create pieces that combine comfort, style and durability.
Recycled swimwear is commonly made out of the below fabrics:
Econyl®
This fabric is made out of regenerated nylon which is composed of items like discarded fishing nets, carpet flooring, industrial plastic and fabric scraps.
Repreve®
Repreve is a polyester made out of recycled PET plastic bottles.
Swimwear made out of either Repreve and Econyl tend to last a lot longer than regular versions. They're also chlorine resistant and have a degree of resistance against UV light.
8 Recycled Swimwear Brands We Love
1. Hakea
Hailing from Australia, Hakea's timeless recycled swimwear is designed with flattering shapes and functionality in mind. We love that their pieces are made to last and their designs have been sampled on all body shapes for maximum comfort, support and style.
Sustainability has been at the heart of Hakea's ethos from the beginning. They reduce waste by releasing only small collections at a time. Each piece of swimwear is designed to be a staple in your wardrobe for years to come, combining versatile designs with durable materials.
They use Econyl in particular. The result is a strong fabric that's resistant to chlorine, breakage and UPF 50+. It's also gentle on skin and 100% free of harmful chemicals.
2. Tucca Swim
Pretty patterns and flattering styles are where it's at with Tucca Swim.
This London-based brand is a favourite when shopping for recycled swimwear as their designs are versatile and sometimes even reversible. You could say it's two pieces for the price of one!
All swimwear fabric is made from Econyl, which contains the likes of recycled plastic bottles, carpet flooring and other marine debris. It lasts three months longer than normal swimwear fabrics and has the added bonus of being resistant to chlorine, sunscreen and UV light.
Tucca Swim only release one collection a year and they use a minimal range of colours and styles to keep waste down. All their packaging is biodegradable and plastic free.
3. Mimie Reed
Mimie Reed are champions of understated elegance, luxury and sustainability combined in a swimwear collection.
The brand is no stranger to adopting styles inspired by the bygone eras of the 1930s, 1940s and 1950s. Each piece in the collection is designed to fit every body shape and make you feel confident at the beach.
All swimwear is made from regenerated nylon from nylon waste. This sustainable fabric can be recycled and reused again and again. It also puts the likes of ocean plastic and ghost nets to good use instead of polluting the planet.
What's more, Mimie Reed donate 3% of all profits to the Olive Ridley sanctuary in the Maldives which works to protect sea turtles and their habitats.
4. The Someday Co.
Have you ever just wanted all your swimwear needs all in one place?
The Someday Co. is here to help. You don't have to worry about whether or not items are eco-friendly either.
The Australian online marketplace has done all the hard work for you so you can concentrate on finding something you love.
The Someday Co. brings you all the best sustainable and recycled options in surf, swim, active and accessories together in one place for a convenient shopping experience. They house over 55 brands and over 1,500 products and growing.
Each brand has been assessed on their sustainability initiatives and you can see it all on their bad modelling system. Favourites include Ocean Flo who make their swimwear out of fabric from recycled plastic bottles and CEACEA who make scrunchies from fabric waste.
5. Davy J
Davy J's swimwear collection is designed to handle whatever adventure life throws at it. You can rely on it to do its job whether you're diving, swimming, beaching it or hanging out under waterfalls.
Our particular favourite is the Waste Collection which is crafted from 100% regenerated nylon from plastic waste including ghost fishing nets.
The collection features a dazzling line of one-pieces and separates that are made to last and fight against the throwaway fashion trend. Each piece is well made for strength, durability and flattering shapes.
The well-structured designs mean you won't fall victim to billowing swimsuits when you hit the water either.
6. Tide + Seek
Tide + Seek are as playful as their name suggests, favouring bright colours and fun patterns throughout their swimwear designs.
All their recycled bikinis and one-pieces are infused with fabric made from plastic waste called Repreve®. The polyester fabric is made from 100% recycled plastic, comprised of mostly PET post-consumer plastic bottles.
Using Repreve® fabric offsets the need for new petroleum which reduces the amount of greenhouse gases in the atmosphere while conserving water and energy throughout the entire process. The fabric also has a UV protection of factor 50 and is chlorine resistant.
7. More Than Swim
More Than Swim are keen to minimise their carbon footprint whilst delivering top quality swimwear which is why they've become a firm favourite on the sustainable swimwear scene.
All pieces are made in the UK. What's more, in the manufacturing process all patterns are directly transferred onto the fabric using eco-friendly inks. This means nothing enters the waterways, keeping the process as clean and as direct as possible. All designs are then printed and cut to size to limit waste fabric.
More Than Swim use recyclable and compostable packaging and a donation from each sale from the website goes to the charity, Ocean Generation which removes plastic from the ocean.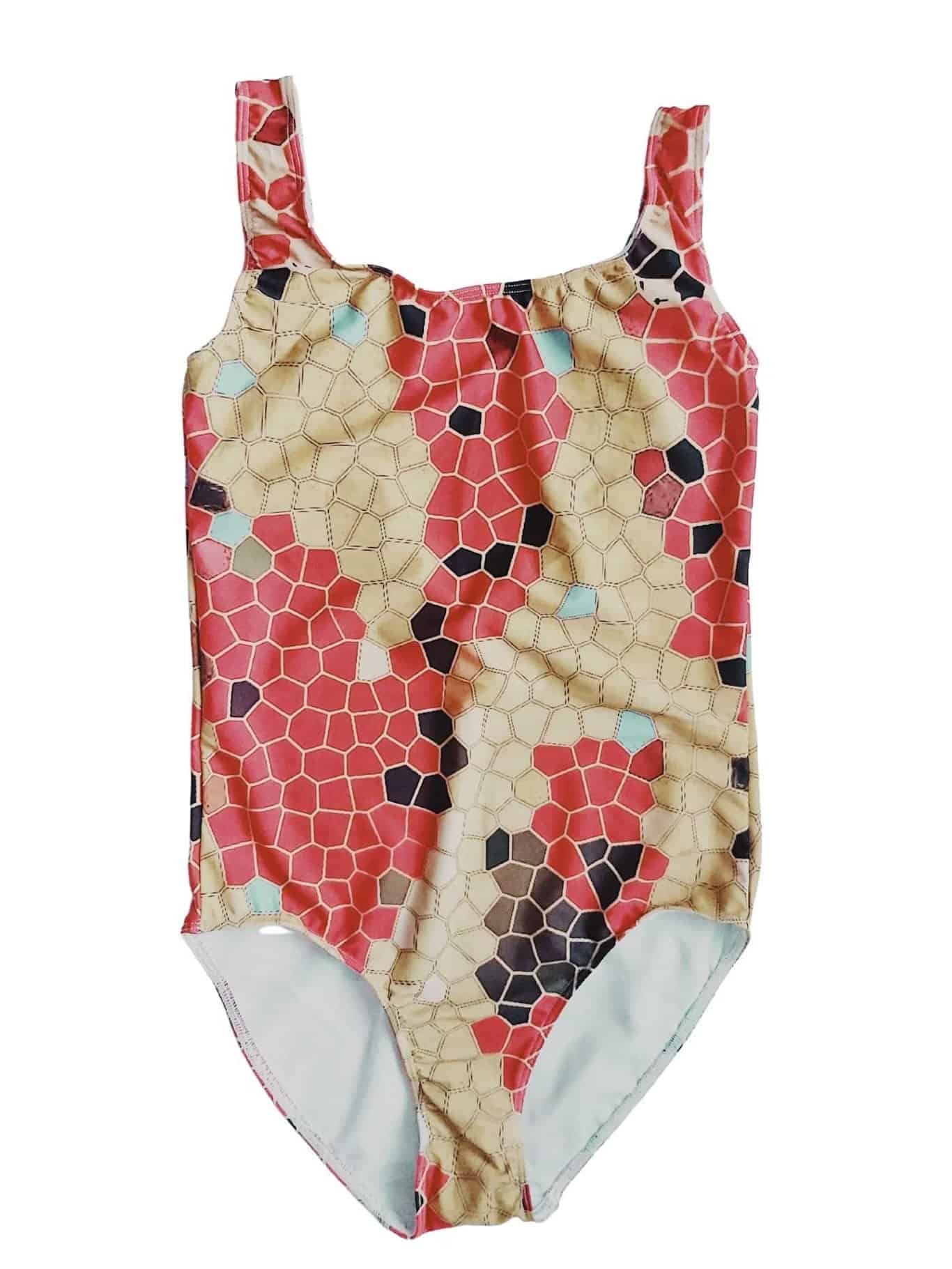 8. DEDICATED
Sustainable fashion brand DEDICATED has got all your stylish swimwear needs, catering to men, women and children.
Whether it's a one-piece or two-piece you're shopping for, all swimwear is made using recycled PET plastic bottles and repurposed ocean waste to create high-performance materials that last.
This process allows them to use 59% less energy and 32% less CO2 at production level. It also saves 35% less water than virgin polyester production.
The DEDICATED recycled plastic revolution doesn't just stop at swimwear. The brand makes jackets and beanies out of it too, purposefully choosing garments that don't need washing as regularly to save on microplastics.
Want more recycled plastic fashion? Check out our post about recycled shoes.
Loved this article on recycled swimwear and want more sustainable fashion inspo?