This year, it has never been more important to support sustainable brands at Christmas.
And it's never been easier!
From ethical Christmas gift ideas, plastic free alternatives, Fairtrade jewellery or sustainable fashion, there's something for everyone in our eco-friendly Christmas gifts bonanza.
The pebble Ethical Christmas Gift Guide 2020
Wooden Beauty Boxes, £54-£70
One for the beauty lovers! Whitfords are a botanical skincare brand, producing 100% plastic free products that are both vegan and cruelty-free. A combination of ingredients with proven efficacy derived from plants, fruits, seeds and natural oils make up this range of award-winning formulas.
This Christmas, Whitfords want to give firewood a festive touch. The limited run of gift boxes are made from hardwoods including ash, sycamore and chestnut, that are offcuts from the family's other business of furniture-making.
Choose a ready-made box of brand favourites, or pick any two items from the range and receive the beautiful, handmade and reusable box for free.
Custom Coordinates Bracelet, from £19
There's no other gift quite like one that has a personalised touch to show someone how special they are to you.
A jewellery brand that's totally unusual, Life Less Ordinary creates travel inspired pieces for those who like to live life a little differently. With the values of ethical, Fairtrade and cruelty free at the heart of their work, their jewellery has both a uniqueness and a conscience.
Want to commemorate a special place you shared with someone? Check out the brand's Coordinate Bracelets, made from ethically-crafted tagua seed. Each seed is totally unique, just like your coordinates will be.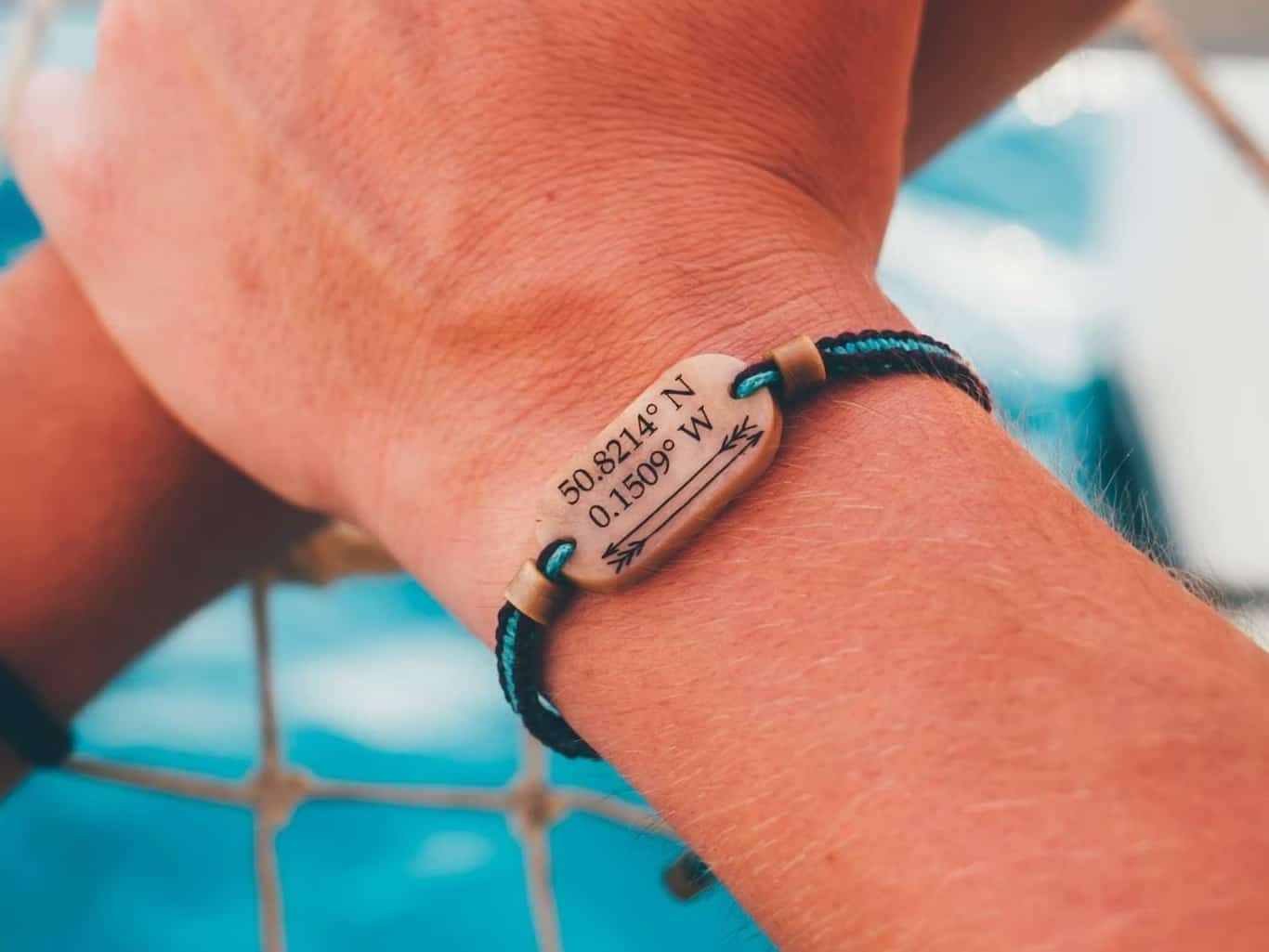 Organic Towels, from £20
Arc Lore are our go to for incredible organic cotton towels that don't just look super pretty in every bathroom, but they're incredibly useful. From beach blankets to cosy coverups on the sofa, these lightweight, fast drying towels, will quickly become an ethical essential in your home. They're also free from toxins and harmful pesticides as well as being ultra soft, non-allergenic and absorbent.
The mini towel is perfect for turban tying wet hair, while the larger towels double as a wrap on the beach. The Samini range comes in a range of 13 colours, something for everyone.
Get 20% off + plus free shipping over £50 with code PEBBLEGIFT20.
Kibtea gift box, £35
Kib is a new line of herbal teas that are planet-positive and flavour-forward. They work with over 200 small farmers in Ethiopia (where, in fact most of the team are based) and grow their herbs using regenerative farming techniques, which creates better soil, better plants, and better flavour.
Kib are thoughtful about every aspect of drinking tea, from how herbs are grown to their biodegradable packaging and they love other brands that do the same. This Christmas Gift Box contains, a Sabahar tea towel, a Nkuku tea cup, and a season's worth of Kib tea — all thoughtfully selected and sourced from brands that do things the right way. It's a gift that does good. Give the gift of Kib this holiday season.
The Complete Cleaning Kit, £43.99
Clean Living's range of refillable, ecological cleaning products are perfect for the conscientious consumer.
The Complete Cleaning Kit, containing the full range as well as cleaning accessories, is the perfect ethical Christmas gift to get you started. The products have a low carbon footprint as they ship as concentrate straight to your home, to be topped up with water in the infinitely refillable aluminium bottles, eliminating single use plastic waste too.
The biological formulas clean effectively and hygienically without the need for toxic chemicals. Clean Living have a fully flexible replenishment service, meaning refills can be scheduled to arrive at regular intervals.
Don't Miss Your Free Essential Guide To Eco-Friendly Cleaning
Apostle Coffee Gift Subscription, £28.95 – £115.95
Any coffee aficionados you know will LOVE you for this gift and for multiple reasons too; it's organic, high quality coffee in 100% compostable packaging.
Apostle Coffee are a family run roastery producing award-winning coffee, with beans sourced from farmers who uphold sustainable practices and who are ensured a fair price. They're also able to 'inset' their carbon emissions through woodland regeneration and tree planting.
One-off purchases are available, but why not treat someone to a subscription? An endangered tree is planted for each subscriber, and over its lifetime it will absorb around a ton of CO2 emissions.
Ripples Chain Necklace, £119
There's nothing quite like being gifted some beautiful jewellery for Christmas – especially when it's ethically made.
RAW Copenhagen handcraft boho-style jewellery inspired by simple Scandi design, using ancient wax carving techniques. The designs are always made locally in small batches, helping to keep the environmental impact to a minimum.
We love this piece from the new ECO Collection, the Ripples Chain Necklace, featuring a double pearl pendant and ripple-like links.
Made with recycled sterling silver, ethically sourced gemstones and freeform freshwater pearls, you can even customise this necklace with different pendant and pearl options to make it even more special.
Consciously Pamper Box, £38
Conscious House London know that something as seemingly small as your choice of skincare can have an impact on changing the fate of our planet.
Using only ingredients and materials from trusted suppliers, their products are natural and ethical, making use of plant-based raw ingredients.
This Consciously Pamper Box is so full of sumptuously sustainable products that we might have to get one for ourselves (Christmas presents to yourself are a thing, right?) Inside are products for lips, face, hands and body that help to smooth and soften skin, ideal for some much needed TLC during those harsh winter months.
Coconut Bowls Set, from £15.99
For something a little different, how about a set of natural and upcycled coconut bowls?
Jungle Culture are a socially responsible brand producing eco-friendly products promoting a sustainable living. Their mission to inspire people to make the switch to reusable alternatives from single-use plastics.
This beautifully unique set includes two natural 'coco bowls' that come in a range of etched patterns, perfect for everything from painstakingly-made smoothie bowls to a humble bowl of porridge. The coconuts used are organic and BPA free, and the set is finished off with two reclaimed ebony wood spoons and a bamboo straw with accessories.
Meadow Skincare Organic Skincare Starter Kit, £35
Natural beauty & wellbeing retailer Blomma Beauty source high quality products from around the UK, bringing together a community of brands wanting to do good for your skin and for the environment.
We think this Organic Skincare Kit from Meadow Skincare would make a perfect ethical Christmas gift to introduce someone to a natural beauty regime. It includes miniatures of their whole range: two types of balm (a nourishing, cleansing one and a hydration boosting moisturising one), a face mask, an exfoliant and a replenishing oil, all of which are handmade and vegan. These are accompanied by an eco-friendly washcloth and a wooden spoon, and beautifully packaged in recyclable materials.
Woven Kids Toys, from £25
Weaving Hope sells Fair Trade toys, bags and aprons for young children that are made from cotton woven on traditional wooden handlooms by women artisans in Sri Lanka.
The items are all bright, colourful and fun, and the various playsets are designed to stimulate imaginative play as a way of encouraging children to develop a wide range of skills while having fun. New for this year are food play sets, including a vegan option.
Red Weekend Bag, £310
Elvis & Kresse have been doing amazing work for 15 years, originating from their encounter with the London Fire Brigade. Seeing the amount of damaged decommissioned fire-hose destined for landfill, it sparked an idea to utilise these materials and breathe new life into them instead.
The Weekend Bag is made from this hard-wearing hose, making for a durable holdall perfect for travelling. The generous size is complemented with one external pocket and three further inner pockets. This bag will also feature in the V&A's latest exhibition 'Bags: Inside Out', giving it a further claim to fame.
Faux Fur Coat, £435
'No cruel. All craze.'
This is the motto that sustainable fashion brand Culthread lives by, upholding respect for the planet, people and animals. The female-founded brand produces a range of luxury vegan faux-fur coats, promoting slow fashion by designing with longevity in mind.
The beloved Chepstow has been a past sell-out for good reasons – made from the highest quality vegan faux-fur, the jacket is flattering, elegant and comfortable all at once. Combined with a soft recycled satin lining, a fully enveloping double faux-fur hood and special faux-fur buttons, this coat is guaranteed to keep you toasty as well as glamorous.
Gift Wrapped Foxhole Gin, £40
After the year we've had, we imagine you'll know of plenty of people that would appreciate a nice Christmas tipple (including us).
Foxhole Spirits produce a luxurious range of spirits made with sustainable ingredients, which includes their HYKE Gin, Foxhole Gin and Mad City Botanical Rum.
The gins are produced with by-products of the English wine harvest and surplus table grapes, while the award-winning rum has a unique botanical blend made with 100% Fairtrade certified rum. While the choice comes down to personal taste, we think this gift-wrapped edition of their classic Foxhole Gin makes for a perfect Christmas present.
5 craft cocktails to make at home this Christmas
Warm & Spicy Collection, £17
Give the gift of plastic-free beauty this Christmas, encouraging friends and family to reduce their plastic use at home. KinKind offers an extensive variety of plastic-free alternatives to standard bottled haircare and bodycare, in the form of vegan friendly and ethically sourced palm-sized bars. The brand has helped save 54,108 plastic bottles in the first nine months of 2020 alone!
The KinKind Warm & Spicy Beauty Gift Set is a deliciously festive box. It includes a shine-enhancing shampoo bar, a creamy conditioner bar with warm cinnamon, and a refreshing body wash bar made with an energising combination of West Indian lime and black pepper. Perfect for those winter mornings.
Frankincense Intense Lift Collection, £185
Well-loved 'modern apothecary' Neal's Yard Remedies are a global leader in health and beauty, but remain grounded in their beliefs of being kind to the planet and creating a balance of inner health and outer beauty. They recognise that using organic and ethically sourced ingredients ensures a gentler product for both you and the environment.
To gift someone with a true scent of Christmas, look no further than the Frankincense Intense Lift Collection. Containing their clinically-proven trio of a face cream, serum and eye cream that both lifts and recontours, the kit also comes with a luxurious triple-textured cleansing melt.
Nearly New Cashmere Co., from £22
Cashmere meets serendipity in the Yorkshire Dales at Nearly New Cashmere Co. A discomfort with the throwaway culture inspired a fresh outlook on used fabrics, and so for the past few years the brand have rescued, repaired and restored unwanted cashmere that would have otherwise been destined for landfill.
Many of us love the luxurious nature of cashmere, but not so much the price tag that comes with it.
Another reason to love these products is their affordability as well as their quality, and so you can treat a loved one to something special and sustainable without breaking the bank.
Priormade Lighting, from £90
Sustainable homeware can fly a little under the radar with so much focus on sustainability in areas like fashion, beauty and food. But there's no reason not to take it to other areas of your home life, and that's what Priormade are here for. The Bristol-based brand creates high quality contemporary homewares, lighting and accessories using sustainable materials and responsible processes.
Priormade's range of bold & eye-catching lighting sits comfortable and confident in any space, and ticks both the luxury design and eco-conscious boxes. There are 17 colours to choose from, too – great eco friendly Christmas gifts for those people with very specific taste.
Woven Jewellery, £28
Your loved ones will love this woven necklace and earrings set from AMMA, who work with mothers from marginalised communities in Sri Lanka to make these gorgeous items.
Each is made from naturally dyed cotton yarn which is hand dyed using plants and food waste including avocado stones + pomegranate skins. Each set comes in a handwoven, naturally dyed pouch.
AMMA is a social enterprise advocating for a regenerative approach to textile production. All profits are reinvested back into the social enterprise providing training and employment to mothers living on Sri Lanka's tea estates.
Vegan Handbag, £120
Jord's vegan handbags will take anyone from day to night, and hit all the stylish sustainable right notes.
The Haifa has a removable chain so can be used across body or as a clutch. It's made from durable cork which has a five year guarantee, with a plus velvet style interior and comes in a range of superb tones.
It's big enough for your essentials including credit or debit cards in special slots and smart enough to attract envious glances. Whoever you give this to this Christmas, will be a lucky thing!
Fabric gift wrap, £48 (3 pack)
FabRap have created reusable gift wrapping for Christmas, that is beautifully designed and sustainably produced. Using 100% GOTS certified organic fabric, FabRap help you reduce your waste this Christmas and add a serious dose of sustainable style.
Its fabric wraps are exclusively designed and are made from 100% GOTS certified fabric, their 2020 collection has been inspured by 1920's Art Deco & Art Nouveau designs and architecture. Wrap each gift beautifully and allow each FabRap to be used again and again, sharing the love and saving the planet.
How to wrap a present using fabric wrap
Christmas Bundle of Joy, £38.50
Order a Christmas Bundle of Joy from Charrli, who have curated your favourite eco British brands in refillable bottles that are delivered right to your door!
The bundle includes Faith in Nature Shampoo and Conditioner, Colt & Willow dishwashing liquid & Good Project Hand sanitiser. All products are from local British brands and are natural, eco-friendly. They don't contain any nasties so good for you and your family as well as the planet – the perfect sustainable gift that's refillable.
Charrli drops off household essentials such as shampoos, conditioners, lotion, hand sanitiser, skincare and cleaning products in chic refillable bottles (and a reusable tote bag), and collects your empties when you're finished. They are the modern-day milkman helping you reduce waste in your home and saving you time.
Pre-loved phone, from £179
Many people give phones at Christmas especially to teenagers but if you don't want to add to the growing problem of electronic waste, there is a new option for buying secondhand.
reboxed's pre-loved phones go through a 70 point tech check and come with a 15 month gurantee. They come in premium looking plastic free packaging and even contain a recycled plastic phone case.
Their iPhone 7s start at £179. Get £15 off any phone over £200 with the code PEBBLE15.
As well as keeping e-waste out of landfill, reboxed will also plant 10 trees per device sold and offset the carbon emissions of the phone for its lifetime.
Homewares, from £25.99
With us all spending so much time at home these days, Crackpots' handcrafted home accessories are the perfect ethical Christmas gifts to brighten up our living spaces.
Handmade by founders Gail & Alison in the Lincolnshire countryside, Crackpots is known for its striking tissue box covers and waste paper bins, which are all sustainably made from decoupaged responsibly-sourced, recycled wood.
Discover the extensive range of beautiful home accessories with a style and pattern to suit every home interior.
Mini-handbags, £250
Gorgeous totes and crossbody bags made from apple leather, chic mini handbags made from corn-based materials and elegant wallets and card holders made from Piñatex pineapple leaf fibres and super soft organic cotton T shirts? What's not to love?
LUXTRA is a Certified B Corp and 100% vegan brand that uses the most innovative sustainable materials to create understated accessories. The collections are handcrafted in Italy with the highest quality vegan leather-alternatives.
"I LOVE my backpack", "Oh joy, the bag has arrived!", "Let me start by saying: I love it!" are just a few words from their delighted customers. Expect the same excitement from anyone unwrapping this present this Chistmas.
Pick N Mix Tea Collection, £17.99
You know what all tea lovers crave? More tea! From classics like everyday brew and peppermint leaves to the slightly wackier rhubarb and ginger and chilli chai – teapigs pick n mix tea collection is the perfect way to gift the ultimate tea tasting session!
Choose 12 adorable mini 'piglet' packs (each with 2 tea temples) and build your own box of goodies – if you're lucky, they might even share.
If you're feeling confident with their fave tea, pick n mix is also available with larger packs – but let's be honest, the mini packs are just ridiculously cute.
Soap Gift Bundle, £25
Chapel House Soap was born from a need to find more eco-friendly alternatives to skincare products, which are notorious for their sky high carbon footprint and huge amounts of plastic waste.
They offer a range of locally produced natural, cruelty-free soaps, as well as handy cotton soap bags.
Their fabulously scented festive gift box contains a trio of handmade products, perfect eco friendly Christmas gifts for kicking off someone's plastic-free journey. This includes an organic soap with an uplifting blend of essential oils, a body lotion bar that melts onto the skin, and a moisturising deodorant cream that comes in a reusable glass jar.
Refillable Hand Wash/Shower Creme, from £20
If you're looking for gifts that are useful, sustainable and beautiful this Christmas, Milly & Sissy have got the perfect selection for you!
Their beautiful, refillable, British-made glass bottles and selection of fabulously fragranced hand washes or shower cremes make the perfect gift for him or her (or them!).
Their range of zero waste products are suitable for vegans and come in plastic-free packaging.
They have a range of totally unique gift packs starting at £20. Find their products in Selfridges & larger Boots stores or order online.
Sweatshirt, £120
Gung Ho's statement sweatshirts bring big smiles that keep giving. The sustainable fashion brand allows you to wear what you love, and believe in – and who said sustainable fashion had to be boring? These sweatshirts are firm favourites and stand the test of time. Gung Ho also makes fabulous zero waste accessories like face masks or scrunchies from their offcuts, the perfect stocking filler.
Each piece is handmade from sustainable fabrics, with a low carbon footprint. 10% of the profits are donated back to charities working with the issue you are wearing. Invest in something personal & special this Christmas.
Find Gung Ho on our virtual market at FutureFest on 7 & 8 Nov – all the info here. Ticket holders get an exclusive discount over the weekend too!
Download Your Free A-Z Guide To Ethical Fashion
Pyjamas, £60 (for the set)
Organic and Fairtrade fashion mavens, People Tree, have released a line of super cosy ethical pyjamas for Christmas.
These beige striped long sleeve PJs are made from 100% GOTS and Fairtrade certified organic cotton in a breathable and lightweight jersey finish. This super relaxed set are perfect for a chilled day on the sofa, as much as wearing in bed and we don't know about you, but this winter is ALL about the loungewear. Make someone very comfortable this Christmas.
WIN a £100 gift voucher with People Tree. Enter our comp HERE before 23 November!
Zipped Sweater, £199
Asmuss is a luxury womenswear brand inspired by conscious travel, directional human design and the use of smart, sustainable materials. The Pleated Zip Through Sweat is the ultimate versatile piece from the brand's seasonless capsule collection.
Crafted from a blend of super-soft fine-gauge wool and recycled polyester, this sporty piece is not only equipped to provide you with warmth, it's hydrophilic, wicking moisture away from the body and drying rapidly.
Made in Portugal, the fabric is OEKO-TEX100 certified. With ethical mulesing-free knit on the outer and fleece on the inner, an asymmetric pleat detail adds interest and a little stretch means layering is easy on chillier days.
Specialising in luxury sustainable womenswear for the every day adventures your clothes take you on, Asmuss pieces are ideal for cosy days at home and trips further afield.