New zero waste stores are popping up everywhere these days and Edinburgh is no exception.
The beautiful Scottish city is growing increasingly sustainable. These plastic free shops are a reflection of this and buying your sustainable groceries, toiletries and household supplies from them is a great way to support the eco-friendly direction Edinburgh is moving in.

Amongst the glorious architecture and bustling streets, these zero waste shops sell all sorts of sustainable goodies that will help you to reduce your waste and oust the plastic from your home.
Whether you are a local Scot who wants to adopt a more sustainable lifestyle or whether you're visiting Edinburgh for a weekend, keep things ethical by stocking up at these plastic free shops.
Take a look at this map of Edinburgh to see where your closest zero waste shop is.
The 7 Best Zero Waste Shops In Edinburgh
1. New Leaf Co-op
23 Argyle Pl, Edinburgh, EH9 1JJ
The New Leaf Co-op is one of the top spots for zero waste shopping in Edinburgh. It is full of plastic free dry foodstuffs, including over 100 herbs and spices.
It stocks fresh produce too, like organic veg and plant mylks. New Leaf Co-op is also involved in the community through local waste reduction and recycling programmes. Local suppliers are abundant in Edinburgh so New Leaf Co-op has refillable stations for your household and personal hygiene and cleaning products.
Don't Miss Your Free Essential Guide To Eco-Friendly Cleaning
2. The Eco Larder
200 Morrison Street, Edinburgh, EH3 8EB
Edinburgh's first zero waste food store, The Eco Larder, is supported by volunteers and gives all its profits to organisations that help those negatively affected by waste pollution.

This plastic free store contains everything from vegetables to bread to toiletries. The shop has a fridge full of vegan food as well as a milk machine to fill up your bottles!

On a mission to reduce waste in whatever way it can, The Eco Larder even runs zero waste workshops, beach clean-up missions and offers monthly subscriptions for products. If you live within a 2.5 mile radius of the store you can sign up and have their products delivered to you by bike!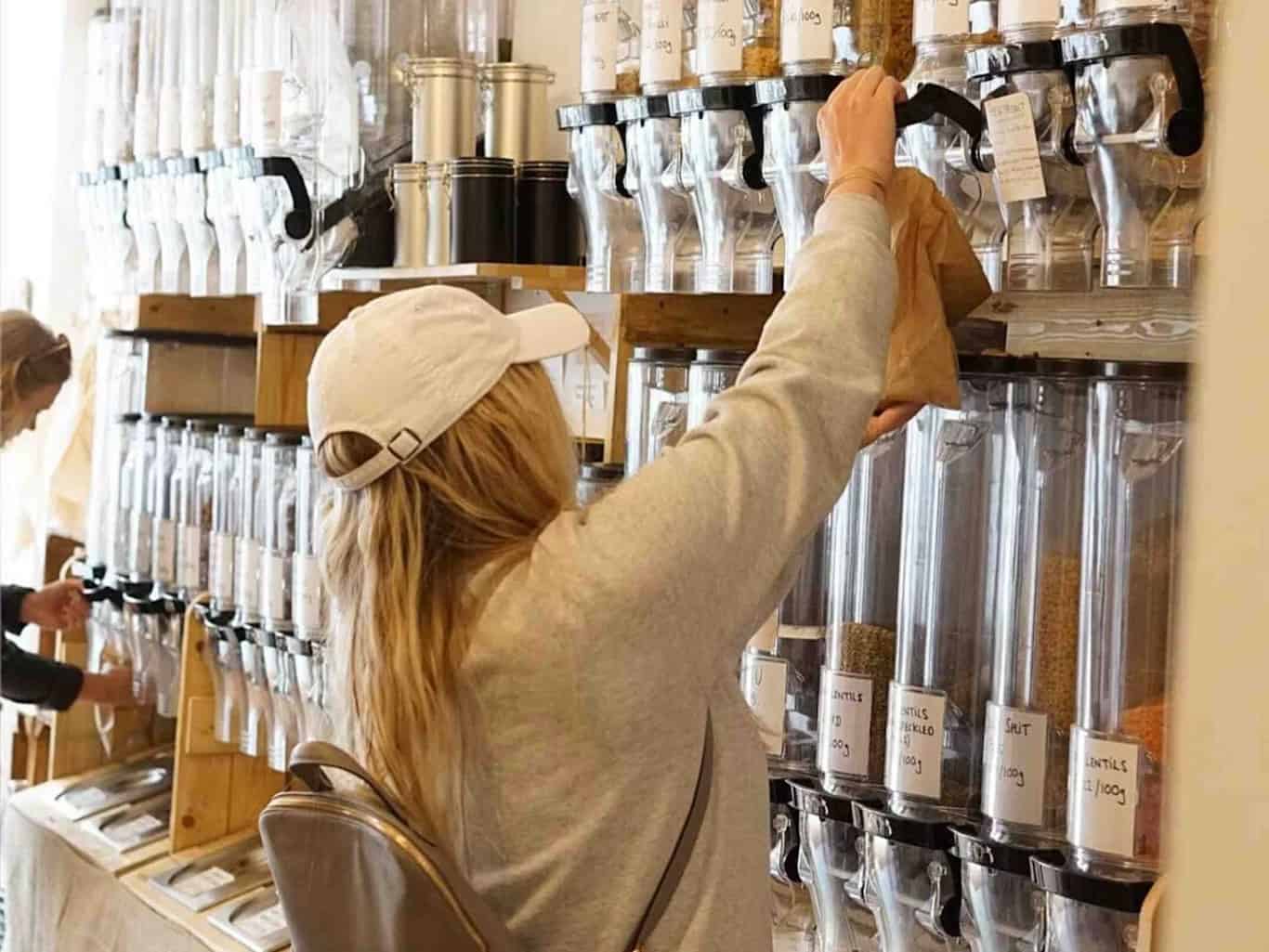 3. Real Foods
37 Broughton Street, Edinburgh, EH13JU & 8 Brougham Street, Tollcross, Edinburgh, EH3 9JH
Real Foods shops have been in Edinburgh since 1975. These stores are not entirely plastic free, but both stores offer a wide array of dried groceries that you can pack into your own containers, along with loose organic fruit and veg.
The Tollcross store has a refillable section for sustainable household cleaning supplies where you can refill your bottles with brands like Ecover and Faith In Nature. Many of their suppliers are local businesses and they also offer a 24 hour local delivery service.
Trying to go zero waste? Here are 11 plastic free online shops you'll love
4. The Refillery
39 Newington Rd, Edinburgh EH9 1QW
Since January 2019, The Refilllery in Newington, has been offering an extensive range of plastic free groceries and ethical goods. A lot of their products are sourced locally from Edinburgh. You can buy items like honey from third generation producers and loose-leaf tea from Eteaket.
In addition to organic fresh produce, like cauliflowers, eggs and sweet potatoes, you can also satisfy your sweet tooth sustainably by picking up some chocolate buttons or chocolate covered peanuts. A good range of zero waste products are also available from their webshop. You can have your ordered plastic free items delivered or collect them in store.
5. Weigh To Go
27 Crighton Place, Leith Walk, EH7 4NY
Weigh To Go is a zero waste store that sells a wide range of refillable toiletries, herbs, spices and groceries.
Glass bottles of milk can be purchased in store and then returned and refilled. This plastic free shop also stocks some harder-to-find ethical goods, such as non-packaged nutritional yeast, soy sauce and noodles. Many of their products, like their fermented foods and butters, are sourced from local suppliers in Edinburgh.
Table talk: Forage & Chatter is sustainable, seasonal and superb
6. Echo Shoppe
107-109 Lauriston Pl, Edinburgh EH3 9JG
Open from Monday-Friday every week Echo Shoppe is housed within the Delekt Cafe on Lauriston Place in Edinburgh. This store sells all manner of zero-waste lifestyle items, from steel straws to reusable mugs to lunchboxes. They also stock organic, refillable and sustainable makeup products from brands like Zao. You have the option of click and collect orders froms six locations in Edinburgh via their online shop.
Plastic free skincare: Gorgeous brands who nail zero waste and reusable packaging
7. ZERO Leith
120 Ferry Road, Edinburgh EH6 4SR
ZERO Leith is run by the non-profit social enterprise Miixer CIC, which opens its doors every Saturday 10am-5pm. This regular zero waste pop-up has everything from furniture to vinyl records, making it perfect for those looking for something unexpected! It does not supply veggies or other foodstuffs, but it is definitely worth noting as a place to get other zero waste and upcycled treasures that have been salvaged from various locations and donations.
Best Charity Shops In The UK: These Are Our Readers' Favourites
Have you got any more zero waste shops to add in Edinburgh? Are we missing any? Let us know in the comments below!