What we put into our body plays an important role in our health and wellbeing.
But what about the products we put on our body – namely our skin?
Sustainable skincare is all about keeping your skin and body healthy whilst being kind to the planet, cruelty free and using ethically sourced ingredients.
Sustainable skincare brands see the value in creating good quality and long-lasting formulas to help you maintain a minimalist skincare routine.
Every part of their product life is eco-friendly and ethical from beginning to end.
Why is sustainable skincare important?
We all know that good skincare can be the difference between glowing skin and breakouts, but it goes even deeper than that.
The products you choose could be subjecting you to toxic chemicals, unregulated formulas and more.
The skincare industry follows the same mentality as the fast fashion industry.
Brands encourage consumers to buy the latest product resulting in wasted half-empty skincare products.
What's more, the global cosmetics industry is responsible for 120 billion units of packaging a year!
15 Best Sustainable Skincare and Haircare Brands
If you're keen to make a difference in your beauty routine, here are our favourite sustainable skincare and haircare brands we love.
1. Fushi Wellbeing
Fushi's passion for the planet is reflected throughout every part of the conscious skincare brand.
All of the ingredients they use are sourced in the most ethical way possible. They work closely with farmers to ensure that they reap an economic benefit and their communities are supported.
All of their products are certified cruelty free and 100% natural with either certified organic or wild sourced ingredients that are free from GM and other harmful chemicals and preservatives.
Fushi is all about enhancing your wellbeing and nourishing your body through their range of natural beauty products, supplements and vitamins.
Feel pampered by their organic fresh pressed oils, butters and herbs that will leave your hair and skin feeling refreshed and nourished.
Or revitalise yourself from inside out with their herbal health supplements, vitamins and juices.
We can't get enough of Fushi's Really Good Hair Oil.
This award-winning hero product rejuvenates dry, damaged and frizzy hair and leaves it looking, well, really good!
Sign up to Fushi's newsletter and get 10% off.
2. KinKind
KinKind helps British families create positive plastic free change in their bathrooms and makes it easy too.
Their award-winning shampoo and shower bars are plastic-free, lovely-to-use, handmade in the UK and posted directly through the letterbox so you don't have to worry about delivery times.
Choose from a selection of luxurious moisturiser bars, unisex shave bars bodywash bars as well as hair and skincare products.
Each one is easy to use and gives you the results you expect from bottled versions – just without the plastic and water waste.
In fact, you can see how many plastic bottles you're saving with every order!
Try their moisturiser bars. Each bar replaces multiple plastic bottles and is packed full of cocoa butter to nourish dry and rough skin on body, hands and feet.
3. Soap Folk
Based in the Stroud Valley on the edge of the Cotswolds, the small team at Soap Folk make gentle, handmade soap bars and skincare products using the best quality, sustainable, natural and organic ingredients.
You can order them as a one-off delivery or regular subscription.
You also won't find any palm oil, detergents, SLS, sorbates or plastic packaging either.
Soap Folk are committed to being as zero waste as possible and they even have an All Kinds Soap Subscription for their soap offcuts.
They offer Bike Drop delivery locally and have achieved the Surfers Against Sewage 'Plastic Free Champion' award.
pebble loves the Soap Folk All Kinds Subscription. You can be a 'waste warrior' and get a delivery of off-cut soaps that come in a mix of shapes, sizes and scents, with the occasional wonky edge.
4. Shoreline Shaving
Located in Manchester, Shoreline Shaving offers 100% plastic free shaving kits that are zero waste and eco-friendly.
Their safety razors come in two styles: bamboo grain handle and chrome plated finish or colourful metal razors with a textured grip.
They also have a luxurious orange and lavender shaving soap which is natural, cruelty free and free of sulphates, parabens and palm oil.
There are nine colours to choose from and each razor is designed to reduce skin irritation and shaving rash.
What's more, for every bamboo razor sold, Shoreline Shaving donate part of the profit to The Ocean Cleanup.
For every Coral Collection razor sold, they donate a portion of the profit to causes that support the protection of the world's coral reefs.
5. Scintilla
Previously known as Conscious House London, Scintilla have evolved to create natural, sustainable and ethical home and beauty products made from simple formulations.
Women-led and based in London, they're all about helping you to adopt skincare as a form of self-care and implement sustainable swaps and practices into your routine.
The Clean Beauty Movement: What Is It And Why Is It Controversial?
Every product in their range is designed to bring you closer to nature and appreciate the power of plants. They're committed to keeping them affordable too.
What's more, Scintilla donate 10% of their profits to charities they believe in, including Mind and SEED Madagascar.
The Bergamot & Lemongrass Hand Cream is one of our favourites.
Rich, but non-greasy, this light but deeply moisturising hand cream absorbs easily into the skin, taking all the goodness of Shea and cocoa butter with it.
6. KIND2
All of KIND2's haircare products are award-winning, made with natural plant-based ingredients and contain no synthetic fragrances, colours or palm oil.
They're also vegan and cruelty free and they've been certified micro-plastic free by Plastic Soup Foundation.
Their solid shampoo and conditioner bars are soap-free and pH balanced, which means you don't need to worry about a transition period.
5 Things I Learnt From Creating A New Solid Shampoo Bar Brand
Each bar saves two plastic bottles from being created.
KIND2 also work with a Social Enterprise supporting people with autism and learning difficulties to gain skills and employment and they plant a tree with every order.
Their Two in One hero shampoo and conditioner bar is made with upcycled Hemp Seed Oil from discarded food waste and was awarded "Best New Sustainable Hair Product" at the 2021 Pure Beauty Global Awards.
7. MamaSia
MamaSia is an award-winning, natural skincare and wellbeing brand based in the UK. Their products are formulated on traditional African principles fused with a modern Western twist.
Most of their ingredients are sourced directly from their family lands in West Africa with ingredients including shea butter, cocoa butter, moringa and baobab.
Their aim is to share their ingredients and knowledge with you, inspire your journey towards nature and a healthier lifestyle and assist you every step of the way (SIA). What's more, 5% of their annual income is given back to their extended family in rural Ghana.
We can't get enough of their Shea Zest Body & Hair Butter.
This intensely rich body butter contains lemongrass oil and it can be used to hydrate and nourish skin and hair for 24 hours (skin) to a week (hair).
8. Maiiro
One of pebble's favourite sustainable skincare brands, Maiiro uses hand-harvested seaweed to create beauty products inspired by a family tradition from the island of Guernsey.
7 Reasons Why Seaweed Is Your Sustainable Best Friend
The brand was created out of a need for a natural skincare solution that did more than mask skin issues.
Their signature Kelpogen5™ collection is made using a powerful formulation of five marine ingredients including seaweed and the antioxidant Astaxanthin which protect and boost the skin's own natural function.
Maiiro uses organic and vegan ingredients (except the lip salves which contain beeswax) that are cruelty free and sustainably sourced so as to protect the ecological balance of the ocean.
For a spot of pampering, try their Organic Anti-Blemish Cream.
This lightweight, fragrance-free, calming moisturiser helps to instantly soothe and hydrate inflamed skin.
Plus, it's won the prestigious Silver Medal in the 'Problem Skin' category and Bronze Medals for Men's Grooming' and 'Face Care' in the Free From Skincare Awards 2021.
9. Milly and Sissy
Milly and Sissy are committed to having a positive impact on the environment with their range of vegan, cruelty free and eco-friendly beauty products like hand wash and shower creme.
They use 99.7% natural ingredients except for the synthetic fragrances.
They avoid using essential oils to ensure that their products are both biodegradable and hypoallergenic. Formulations are SLS free, paraben free and palm oil free.
What's more, all their products come with reusable glass or aluminium bottles which can be refilled using concentrated formulas in compostable sachets. This means no water is transported, giving an impressive 94% reduction in transport carbon emissions.
We love their Zero Waste Sweet Cherry Hand Wash which leaves your hands feeling smooth, moisturised and clean.
10. Beauty Kitchen
Beauty Kitchen is a B Corp certified business on a mission to create the most effective, natural and sustainable beauty products in the world.
Every product in their award-winning range has been designed with sustainability at its heart from their Return•Refill•Repeat packaging right down to their microplastic free ingredients.
Top natural skincare brand, Beauty Kitchen is all about making small changes that have a big impact.
All their products are Leaping Bunny approved and handmade in the UK. They also give 2% of sales to charities including the Seahorse Trust and the Plastic Soup Foundation.
Their hero product is the Seahorse Plankton + High Definition Facial Oil which is proven to boost collagen in just 24 hours.
It reduces the appearance of face spots, dry lines and wrinkles leaving a noticeably even texture and tone.
11. Hairstory
Hairstory is built by a team of hair industry veterans with a combined 50+ years of experience in hair care.
After decades of trial and error, they've developed a line of products that leave your hair clean, shiny, and healthy – without using any of the harmful ingredients typically found in shampoo.
This eco-friendly hair brand wants you to quit using shampoo
Hairstory recognises that everyone's hair is different and requires a personalised approach which is why they invite new customers to find their perfect hair care combination with their customised quiz.
They're also passionate about protecting the environment and members of 1% For The Planet (as is pebble!).
Try New Wash, a moisturising, detangling, shampoo alternative that will transform your hair to the way it was before detergents dried your hair out!
12. FOAMIE
German skin and hair care brand, FOAMIE has reinvented the traditional bar of soap to create 'soap-free' products that are pH balanced.
All of FOAMIE'S products have gentle formulas which cleanse the skin and wash hair without drying. Best of all, there's no transition period when switching.
10 Zero Waste Shampoo Bars That Really Work
Their shampoo bars are made with high quality ingredients that are free from sulphates, SLS, parabens and alcohol. They're also vegan, cruelty free and RSPO certified.
FOAMIE's bars have an ergonomic design which makes them easy to hold. Plus, they come with a string attached so you can hang them up after use.
The perfect vegan hair and skincare for both men and women.
Their Coconut Shampoo Bar For Normal Hair contains wheat proteins and coconut for strong, supply hair with additional shine.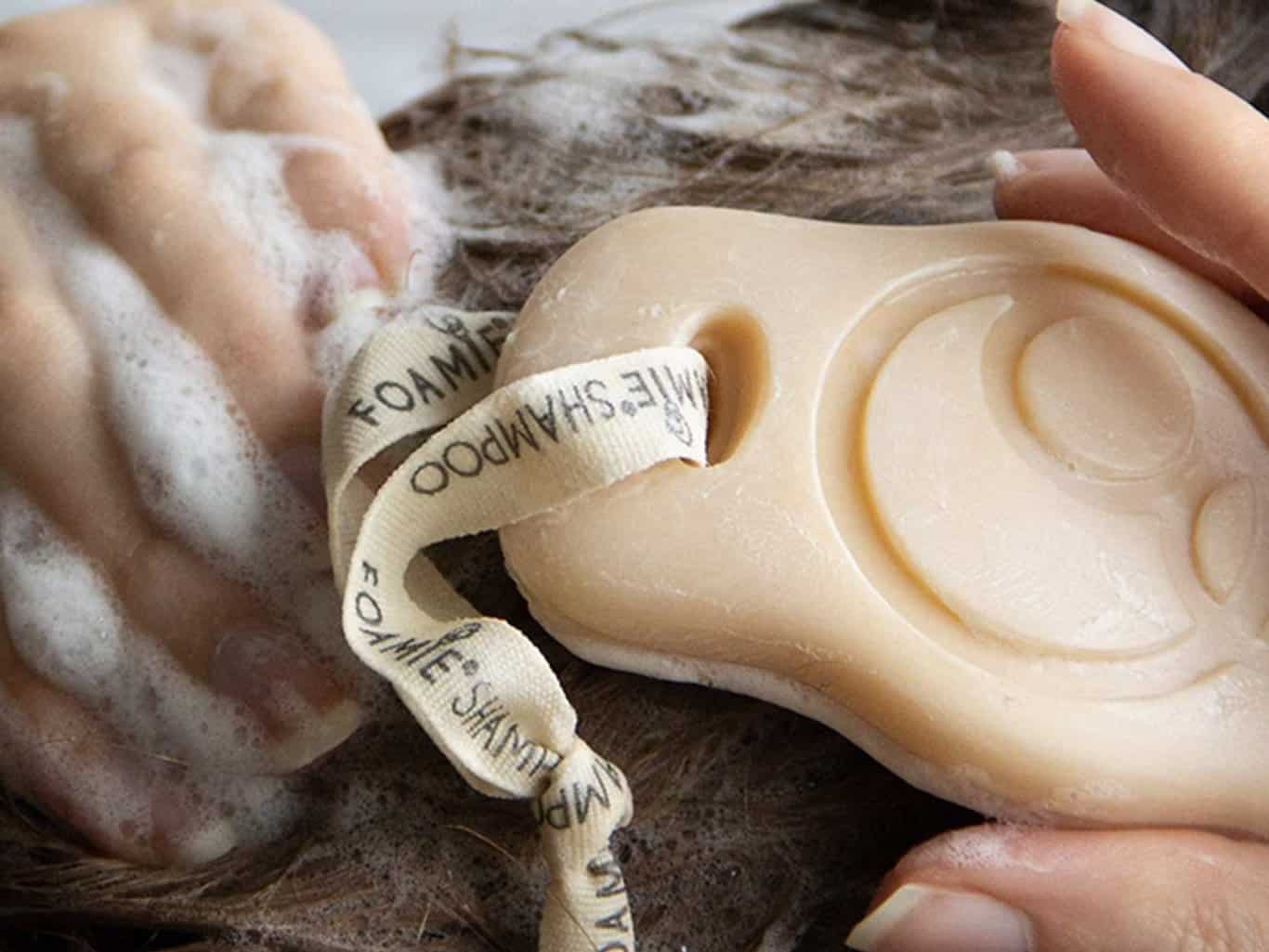 13. Astris & Green
Astris & Green was created to make sustainable swaps easier and more accessible.
The online eco store offers a range of products from skincare to bathroom essentials and gifts – all from eco-friendly and ethical brands that are dedicated to making a difference.
Astris & Green's extensive skincare collection features British skincare and plastic free brands including White Rabbit, Salt + Steam and Heavenly Organics.
There's also a whole section on men's grooming with highlights such as beard oils and plastic free razors.
Each brand has been carefully selected in line with Astris & Green's sustainable, ethical and positive ethos.
One of their bestsellers is the White Rabbit Lime & Coconut Cleansing Water. This gentle cleanser and makeup remover removes oil and dirt from your pores whilst hydrating your skin.
A Beginner's Guide To A More Sustainable Beauty Routine
14. Naturisimo
Dubbed 'the home of ethical beauty,' Naturisimo is an online marketplace for all your sustainable skincare needs – but it doesn't stop there. Browse everything from makeup to clothing, nutrition supplements and beyond with the confidence that every curated brand is ethical.
Founded in 2008, Naturisimo was created out of a desire to treat both our bodies and the planet with the respect they deserve.
Every product they source must meet their high standards with criteria such as transparency, certifications and eco-friendly packaging.
The online marketplace is also a member of 1% For The Planet which means that they donate 1% of annual sales to important environmental causes around the world.
One of Naturisimo's top-rated sellers is RMS Beauty's Lip2cheek Glow Quad Mini.
Suitable for both lips and cheeks, this multi-tasking beauty product comes in a travel-friendly case and features some seriously gorgeous shades.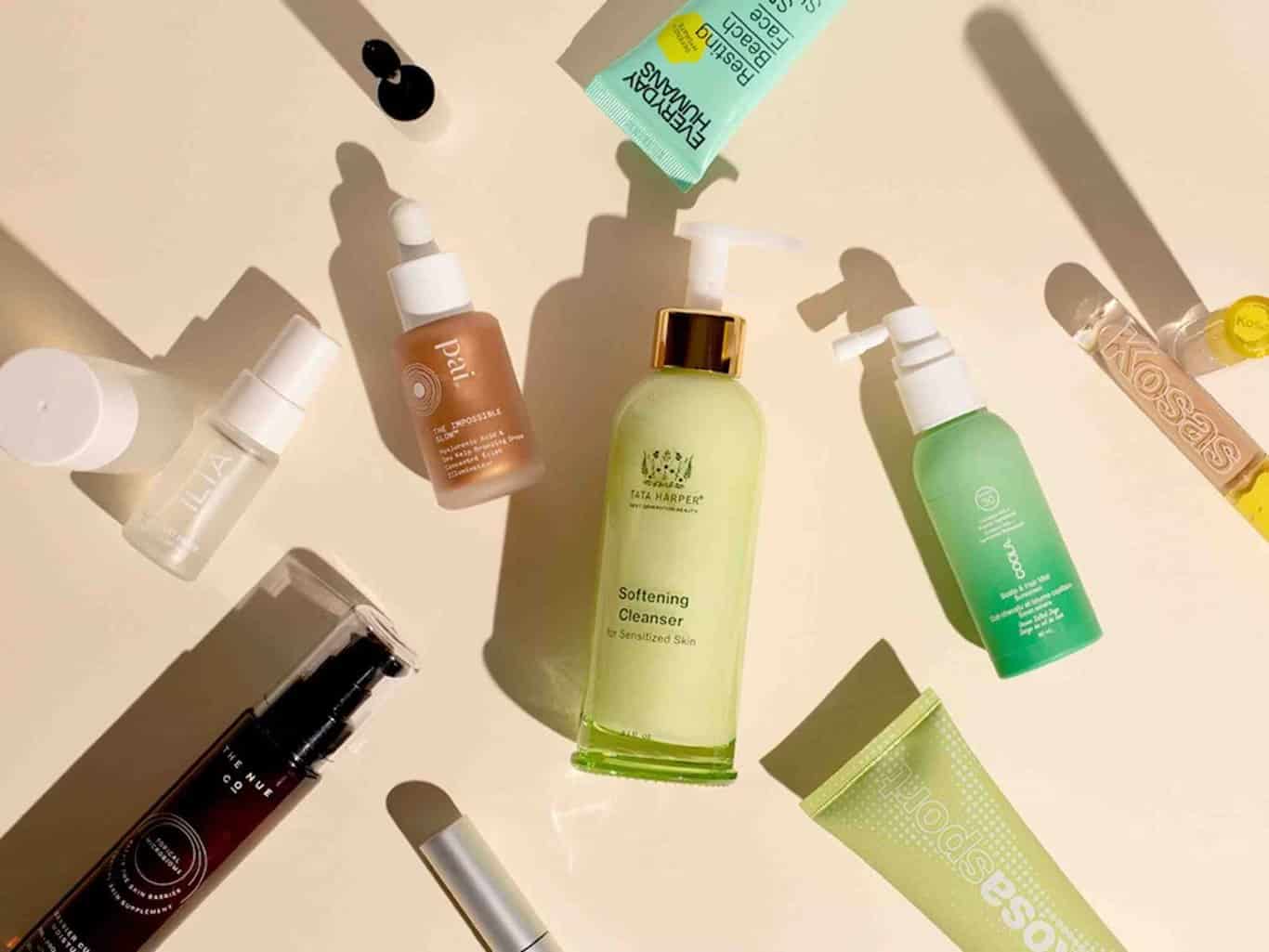 15. Olverum
Olverum is a cult classic and we're head over heels in love with their ultra fine Body Polish which comes in a satisfyingly thick glass pot (which can be recycled into all manner of candle jars / hairband holders).
This isn't a claggy and thick exfoliant but a subtle, gentle one with Fermented Papaya Enzyme to break down accumulated dead skin cells, while mechanical exfoliants Bamboo and Pumice polish your skin, without feeling it stripping off the top layer.
Sustainable and luxurious Olverum was founded in the 1930s by a family in Germany who cultivated rare plants to create the perfect therapeutic oil.
If you want more skincare advice, we've summarised everything you need to know in a free skincare guide.
Download for free pebble's Sustainable Skincare: Everything You Need To Know In One Handy Free Ebook!